Reading Time:
9
minutes
---
Our destiny with The Meadows began long before we actually visited the venue.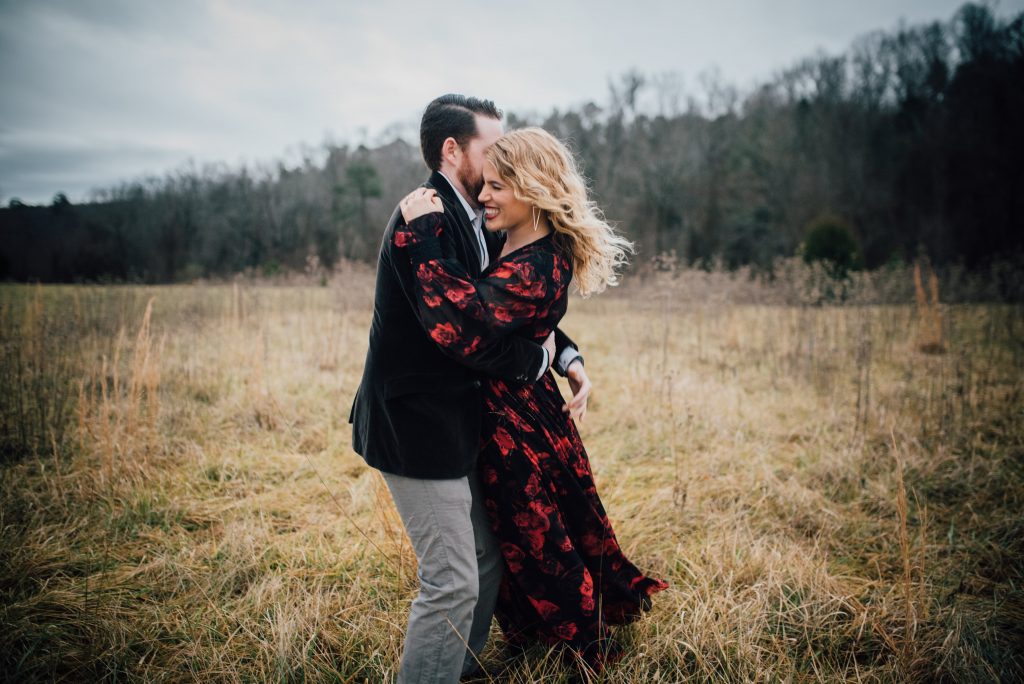 Our engagement shoot in Merritt's Pasture in Chapel Hill, NC by Three Region Photography.
Nathan proposed at sunset in Merritt's Pasture in Chapel Hill, NC.
There was something about being out in the middle of nature, in that life-changing moment, that left a greater impression on me than I realized.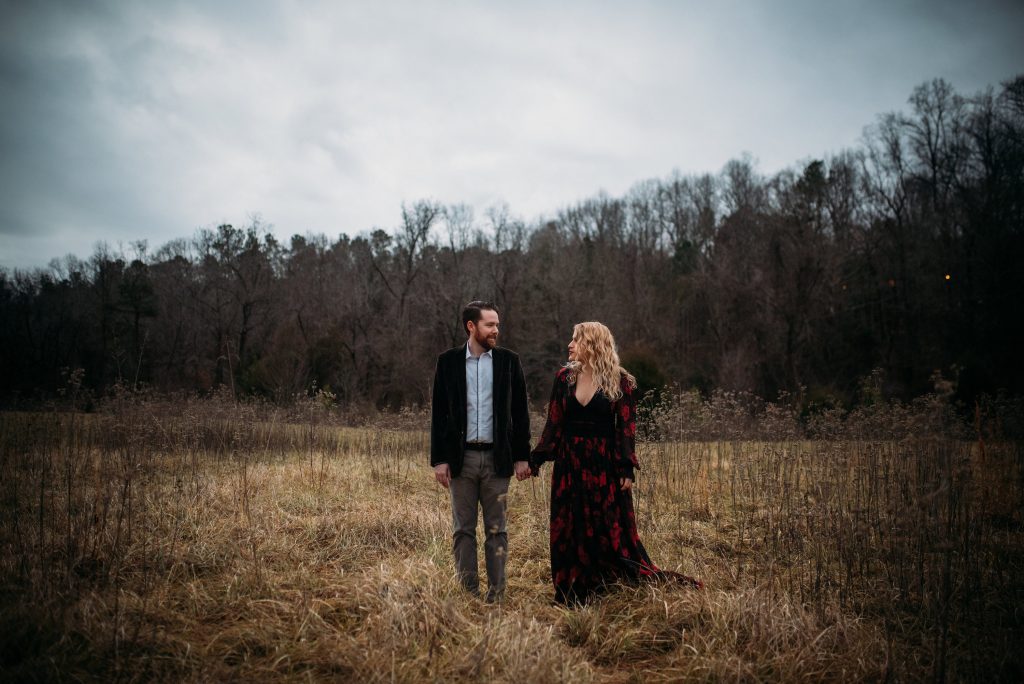 Nathan and I would spend the next several months visiting venue after venue trying to capture that same feeling again.
---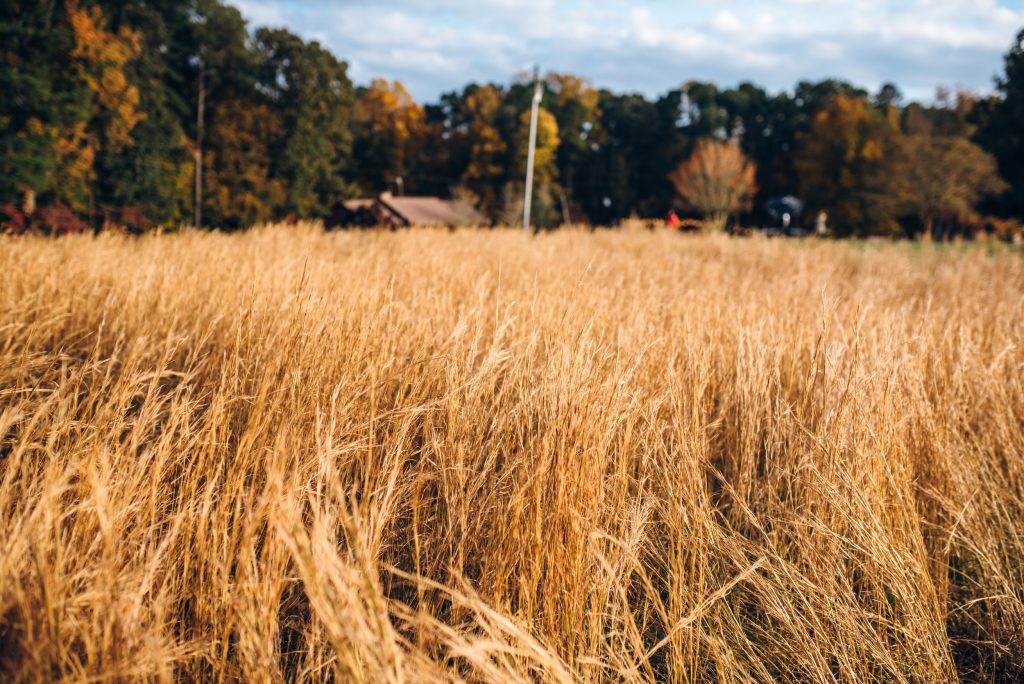 The first time Nathan and I visited The Meadows it had just rained. A lot.
It was January, and the venue had only been open for half a season before we visited. A lot of the grounds were still under construction.
We spent some time walking around the 115 acre venue making our way from Heron Hall, to The Roost, and over to Aerie House (I'll talk more about each of these spaces later).
We left that day, making the drive back up the dirt road feeling peaceful and warm despite our chill from walking around in the brisk January air.
We visited The Meadows again in February for their open house and we knew that this was the place we wanted to get married even before we got out of the car.
We didn't bother taking the tour that time. We knew our way around. Instead, we walked over to the meadow and stood looking out onto the hillside for a while.
This was where we wanted to get married. In the middle of the field. We could picture it. A simple alter, covered in flowers and greenery. A long, winding aisle lined with vintage Persian rugs. The grass, a beautiful shade of golden brown, blowing in the wind. Surrounded by our closest friends and family.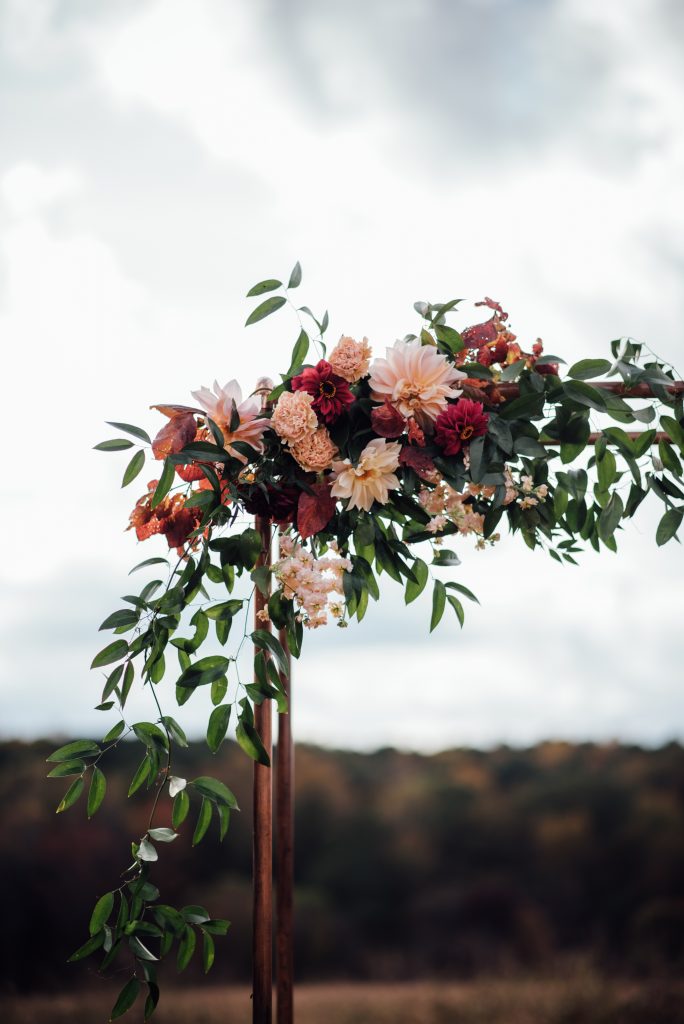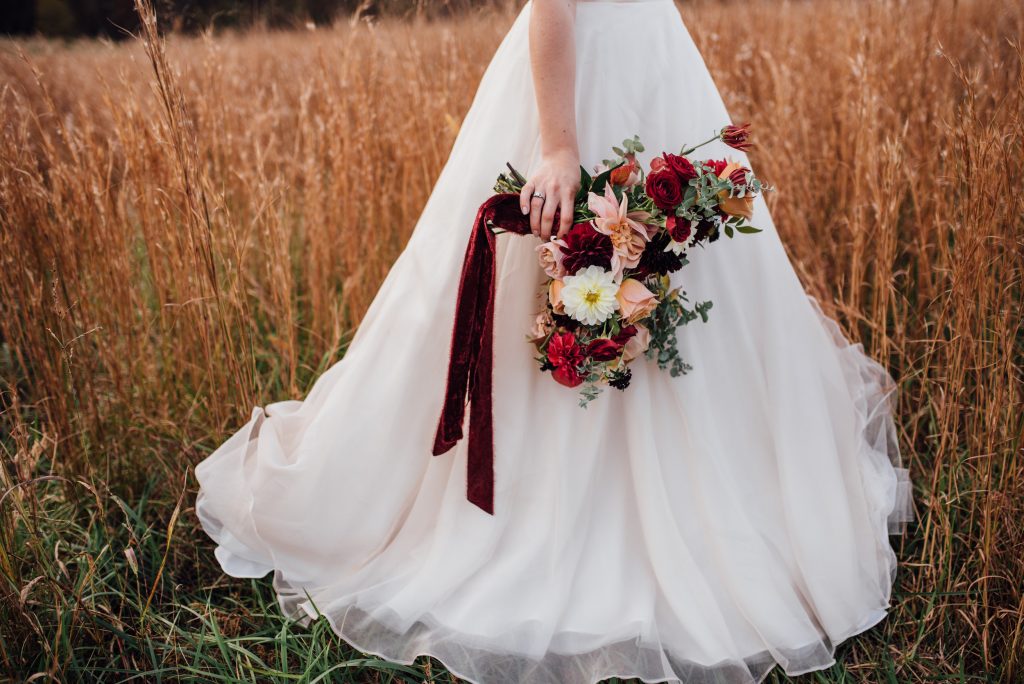 It's worth mentioning that this ceremony site – that Nathan and I could see so clearly in our minds – didn't exist yet.
The Meadows likes to think of themselves as a blank canvas. A space where you can see your most beautiful vision come to life.
One of the reasons why we chose The Meadows as the site for one of the most important moments of our lives was because they truly understood how important that day really is.
They enthusiastically dove into our creative vision, encouraged and helped guide us through the best way to make it come to life.
---
November 4th, 2018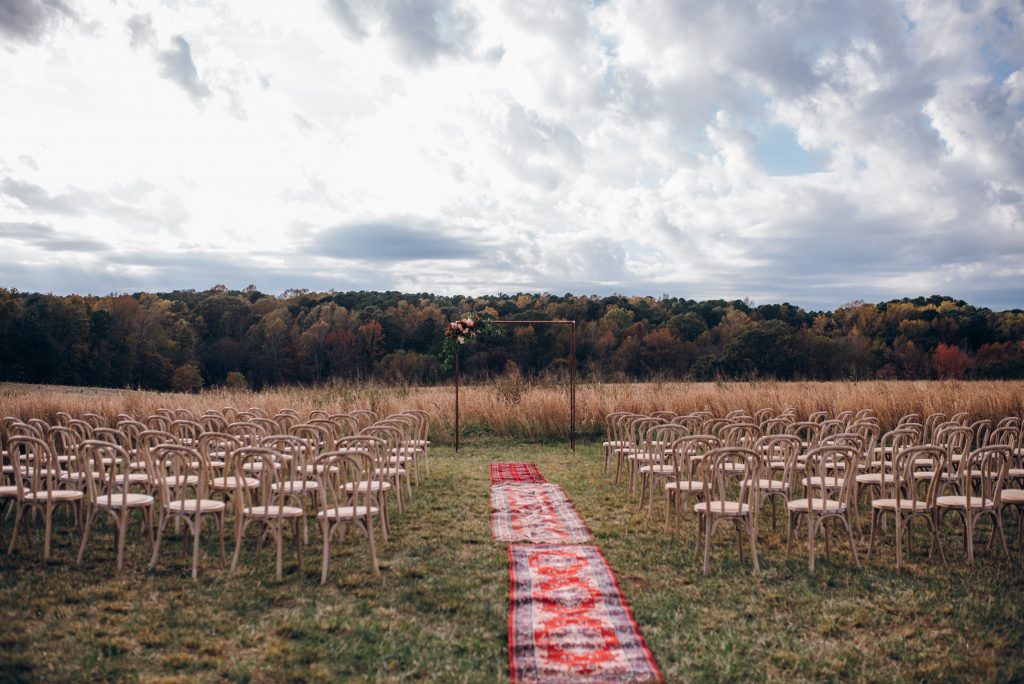 The wedding party arrived on a beautiful, brisk Sunday morning to The Meadows. We booked the use of the entire venue for the day and overnight so that the wedding party could stay on site after the reception.
You'll read about a lot of reasons why The Meadows is truly a remarkable venue and another to add to the list is that it can be booked for events as small as 10 people all the way up to 250. With the lodgings included you can stay on site and turn your wedding day into a wedding weekend.
The ladies and I got to spend our morning and afternoon, drinking champagne, leisurely getting ready, and enjoying each other's company in Aerie House. The house always reminded me of some French-American romantic novel with its velvet antique furniture and eclectic decor. The first floor had everything you would practically want for your stay – a full kitchen, dining area, beautiful living space, and a back patio that led out to four individual outdoor claw foot soaking tubs. We didn't use those during our visit – a little too cold in November. Upstairs were the various bedrooms, and the suite where we all got ready.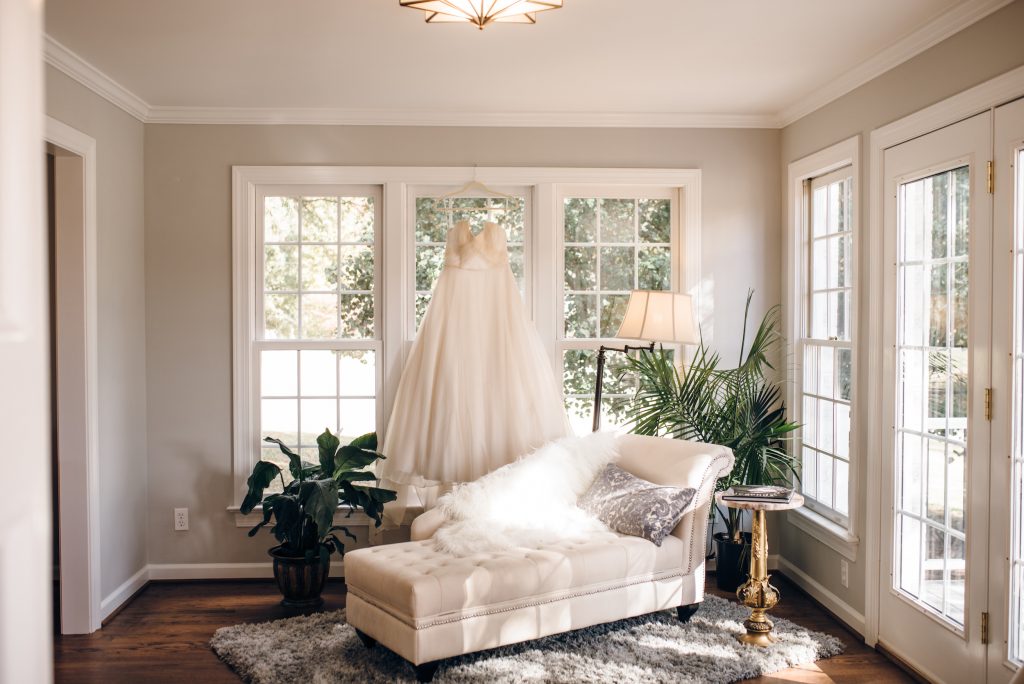 Inside of Aerie House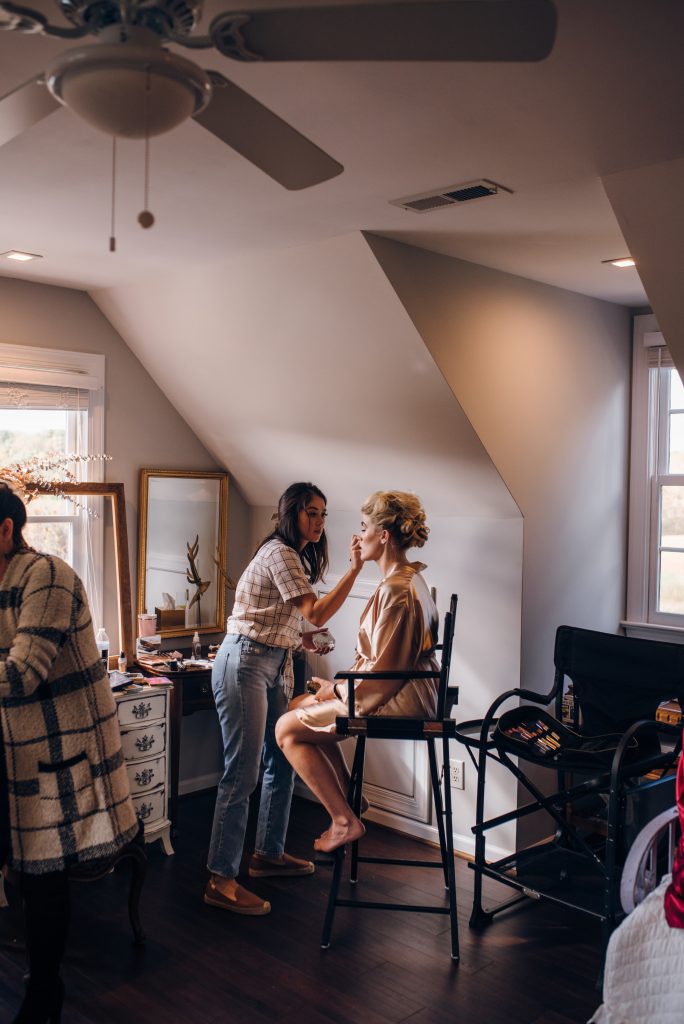 Getting ready upstairs in the bridal suite in Aerie House.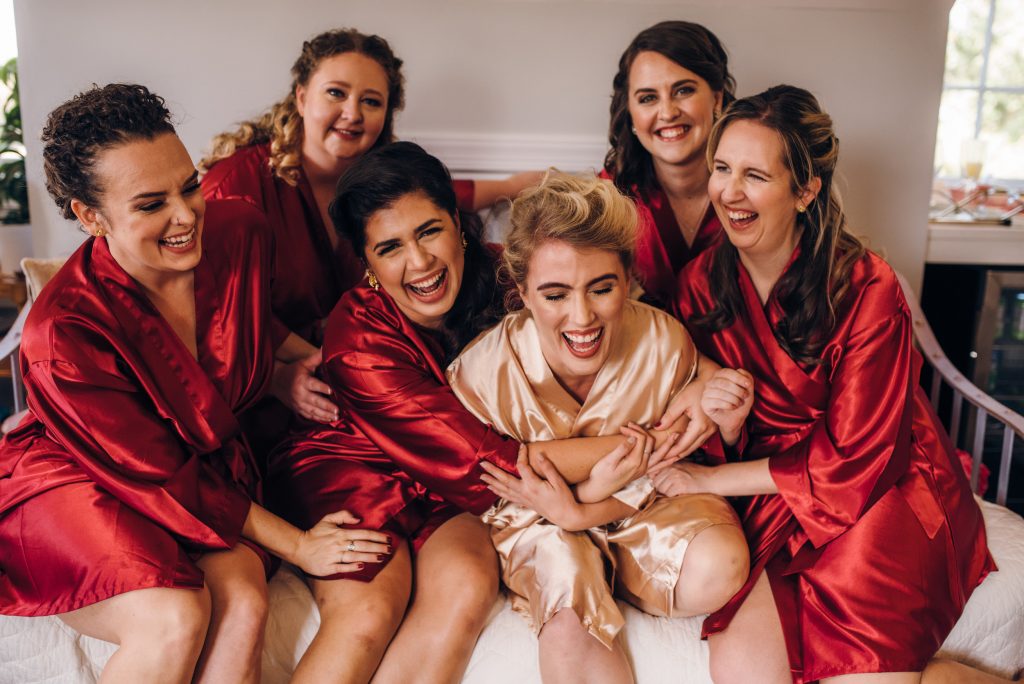 Nathan and the groomsmen made their way over to The Roost where they had all sort of entertainment at their disposal – darts, ping pong tables, poker table, and a large big screen TV. They also had their own beer fridge. It was basically the perfect wedding day man cave. While the ladies and I were drinking our mimosas and getting our hair and make-up done. Nathan made all the men breakfast and played games until it was time to get dressed for photos.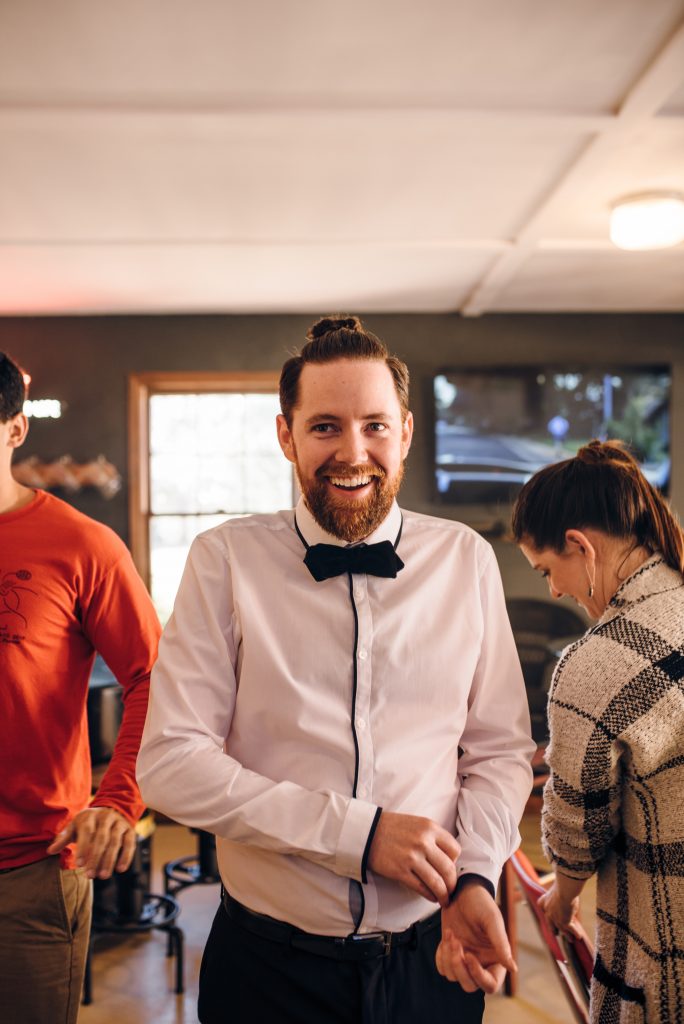 Nathan getting ready in the garage of The Roost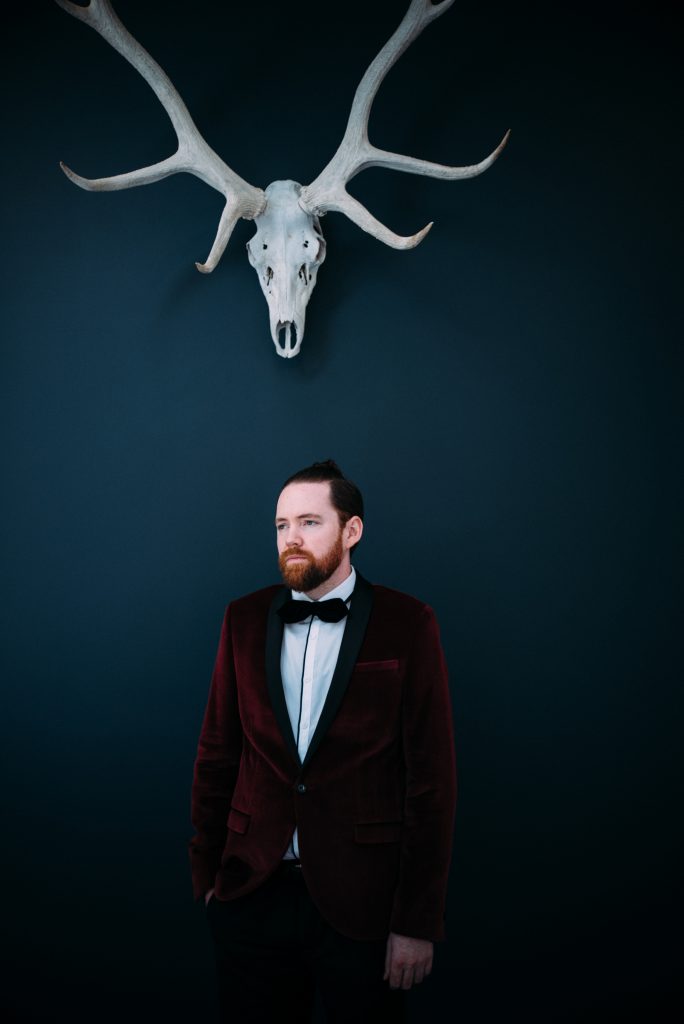 Inside The Roost
Nathan and I wanted our first look to be as I was walking down the aisle, but since sunset was at 5:30 that day and our ceremony started at 4:00 we didn't have enough time before we would lose the light.
We did our first look on the road down to the small vineyard. We wanted to find a place far enough away from the houses and Heron Hall so we could have this moment to ourselves (well, ourselves and Jessica from Three Region Photography). It was one of the only moments we were by ourselves for the rest of the day.
Finding somewhere romantic, beautiful, and private for our first look was an easy task at The Meadows.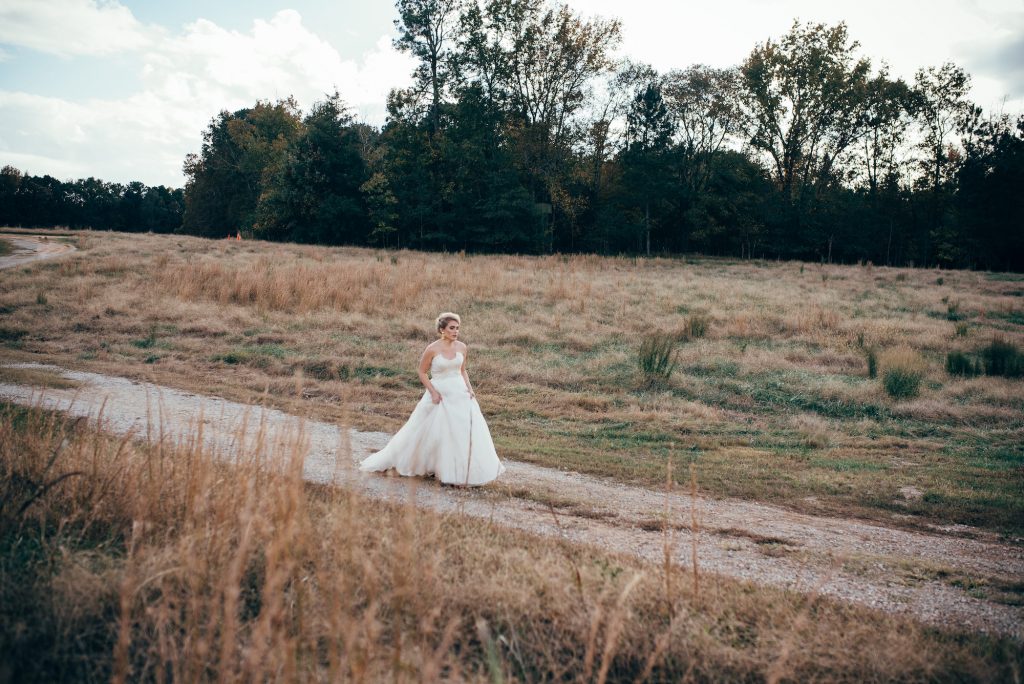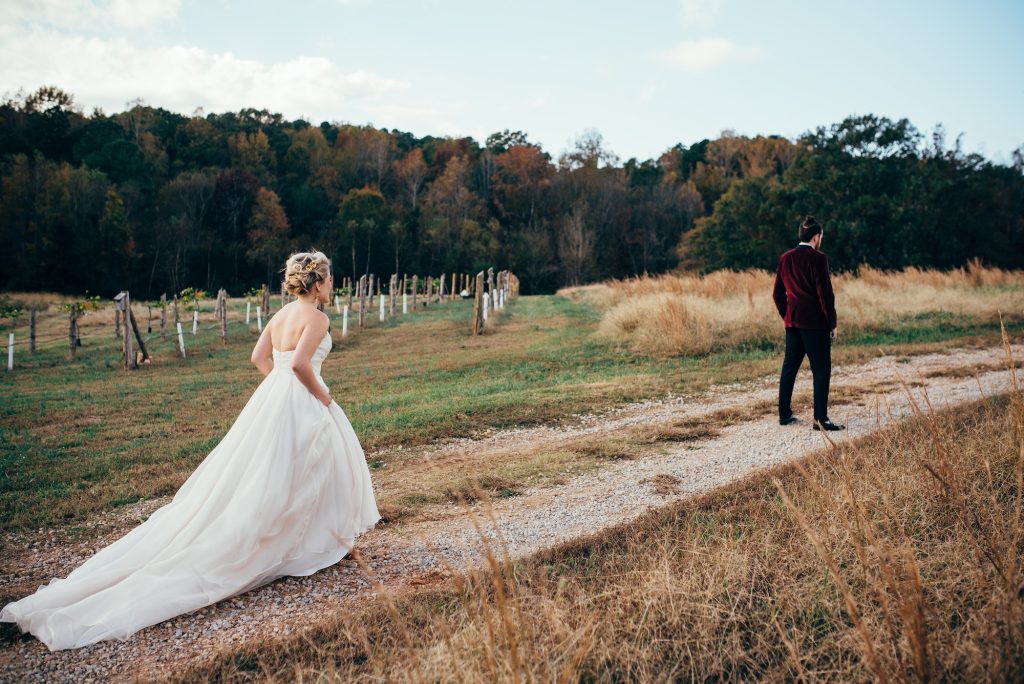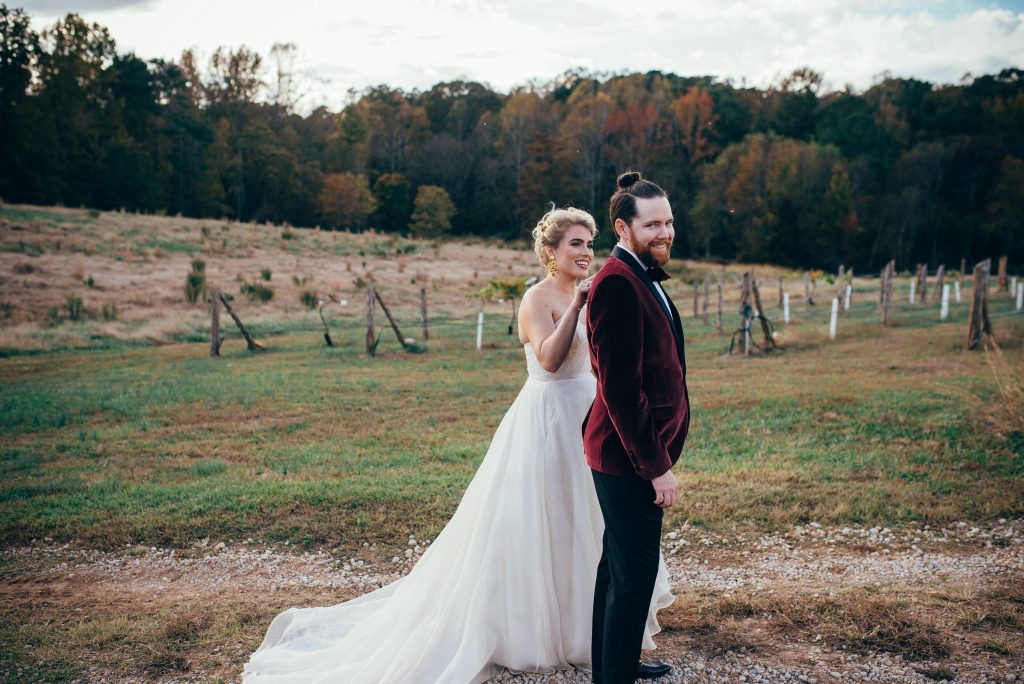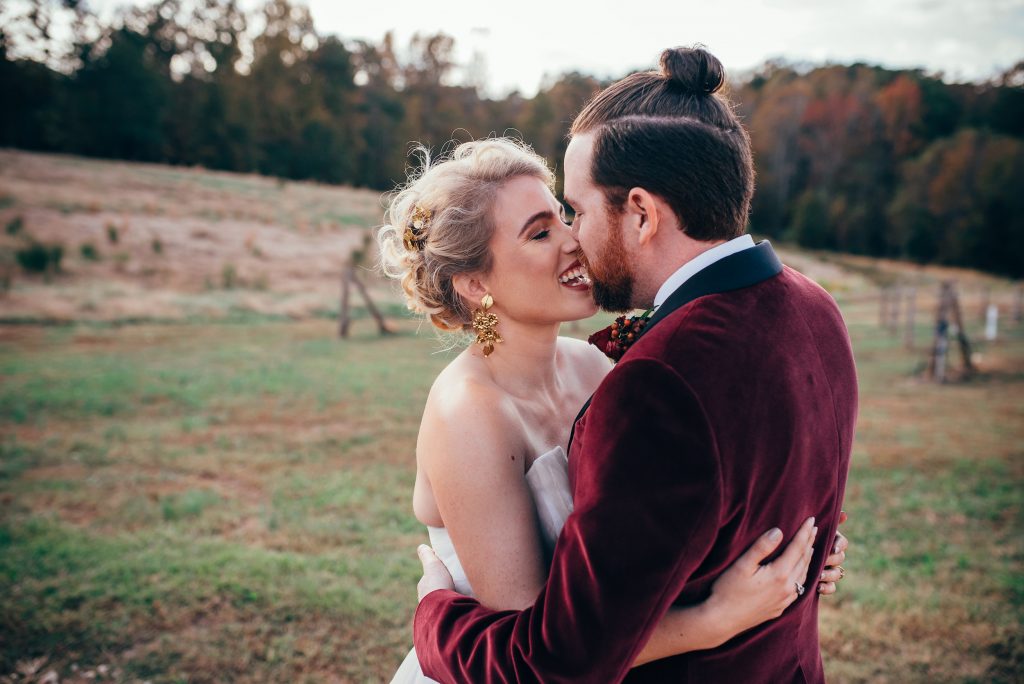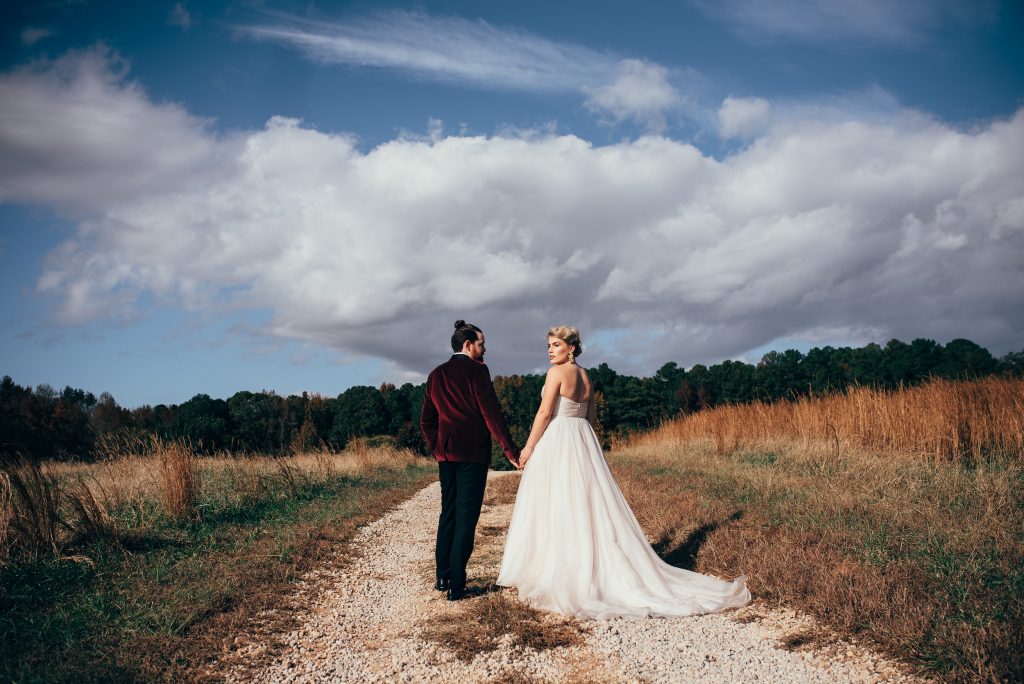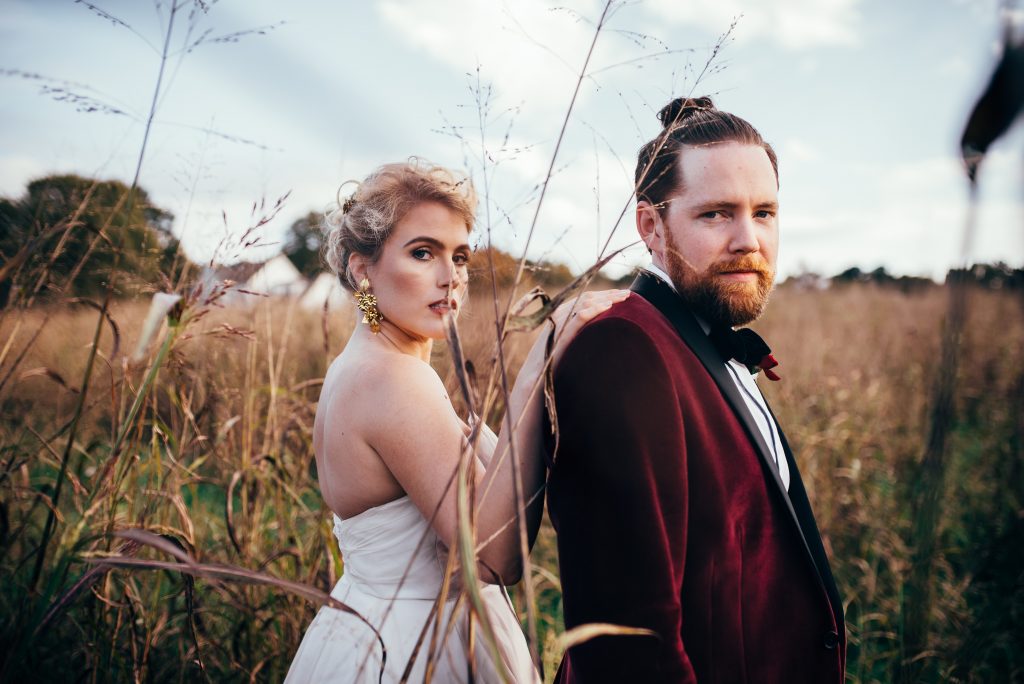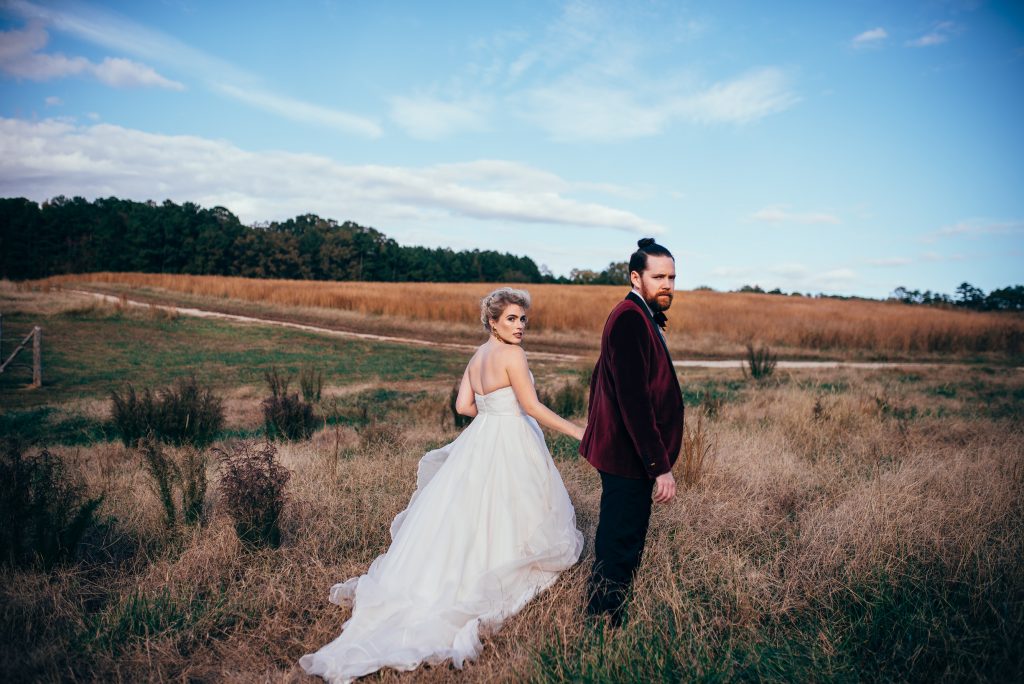 While we took our photos, our vendors were busily getting Heron Hall ready for our reception. The first time we visited The Meadows we immediately fell in love with the industrial nature of the building. In our opinion, it didn't need much decoration. There were warm lights strung on the patio roof and through the bricked breezeway in between Heron Hall and the smaller building next door, the Cantina, which we used as our dance floor and bar area.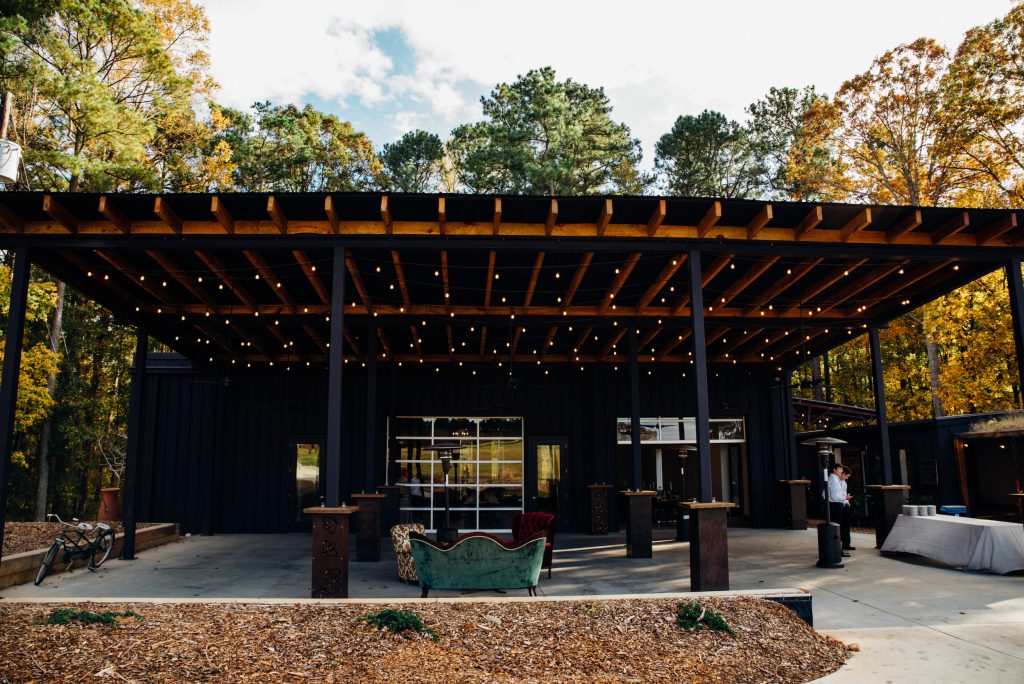 Heron Hall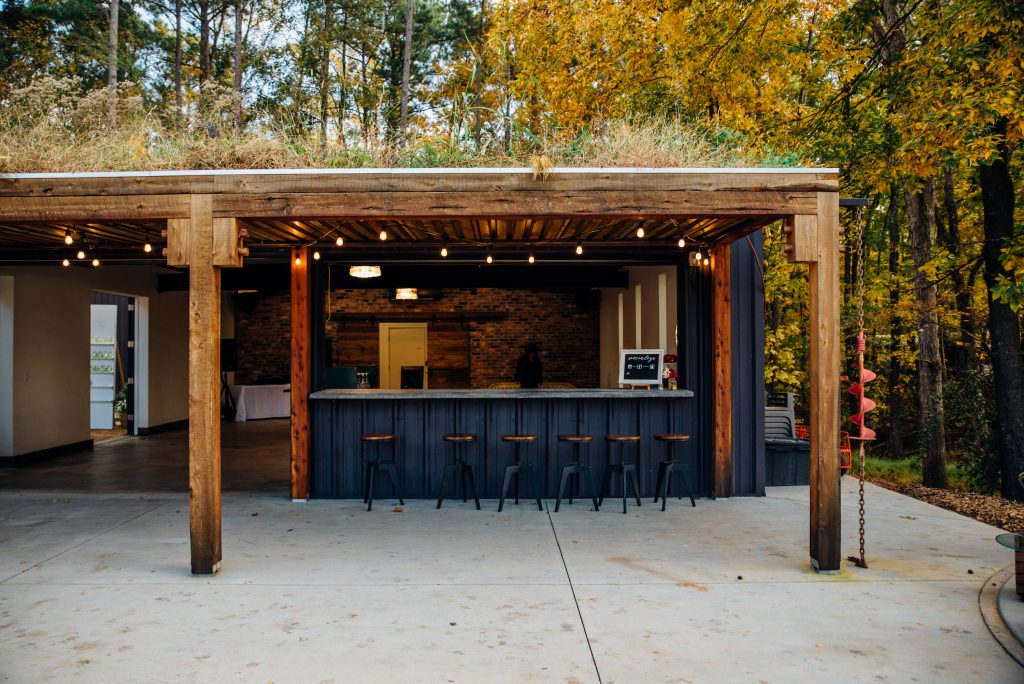 The Cantina
Heron Hall was the farm's original warehouse and grain silo before it was covered into a venue space. It's a beautiful fusion of industrial farm and vintage elegance. In case of rain, our plan was to keep this space as our formal reception area, and have our ceremony in The Cantina which had large, vintage wooden doors we would have used as our backdrop.
Since The Meadows allows you to pick your own vendors, it really opened the door for us to create the experience we wanted from beginning to end. A big part of this was, of course, the food and drinks. For us, this meant pre-ceremony cocktails with seating outside of Aerie House, delicious appetizers, and a seated dinner with fun, casual food.
The Meadows let this quirky vision come to life with Brewmaster's Mobile (see post about them here) serving up delicious libations for our guests as they arrived, and Napoli Neapolitan Pizza parking their food truck right beside Heron Hall serving wood-fired pizza to our guests.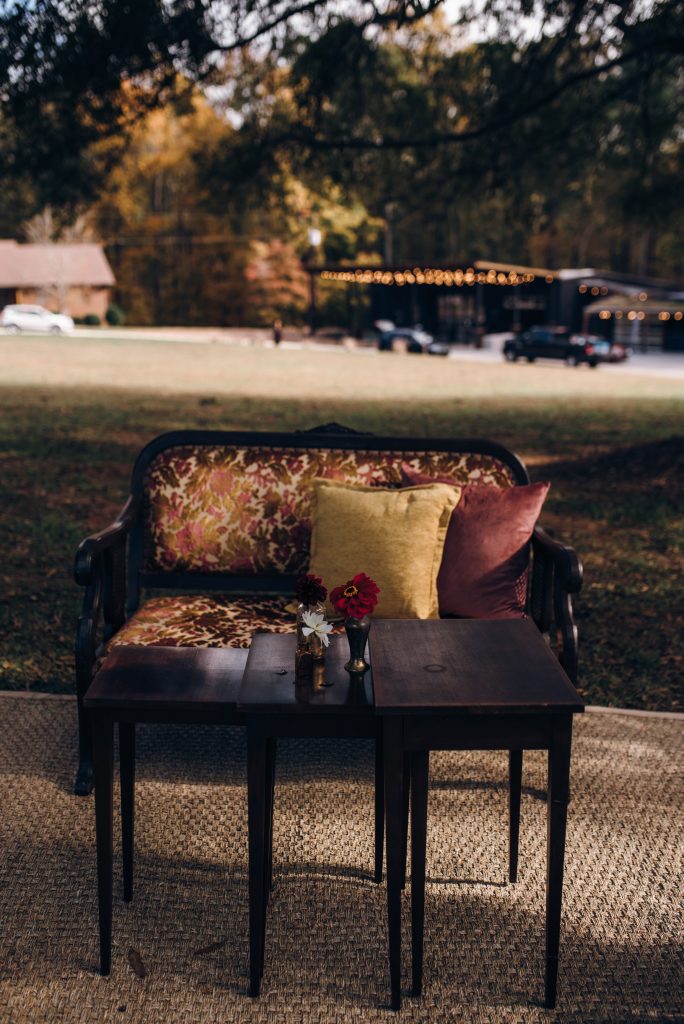 Seating for our guest before the ceremony.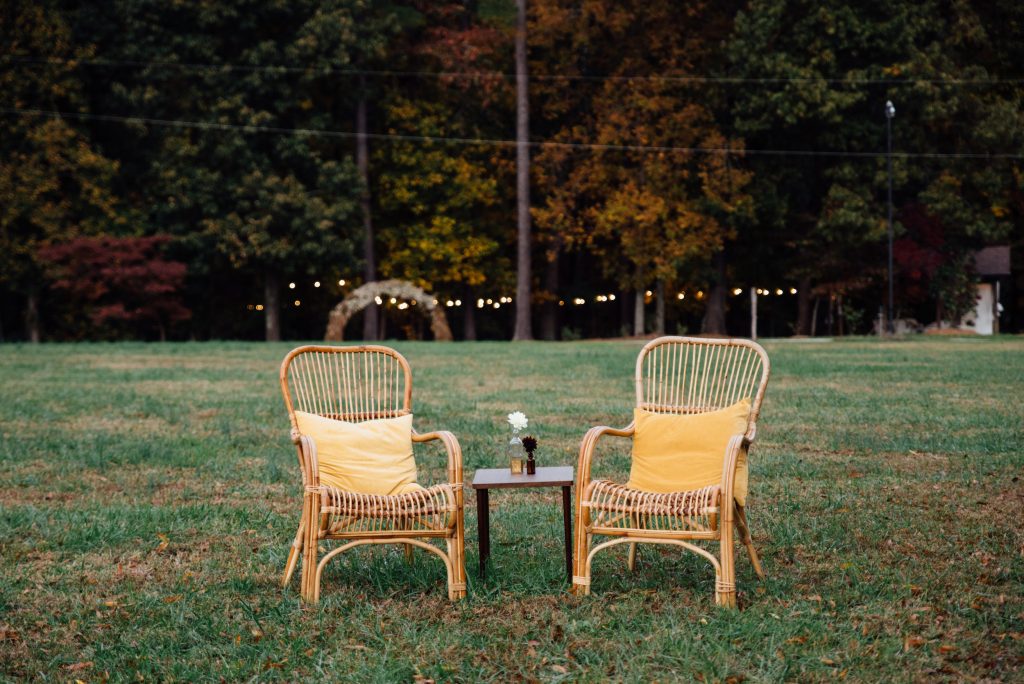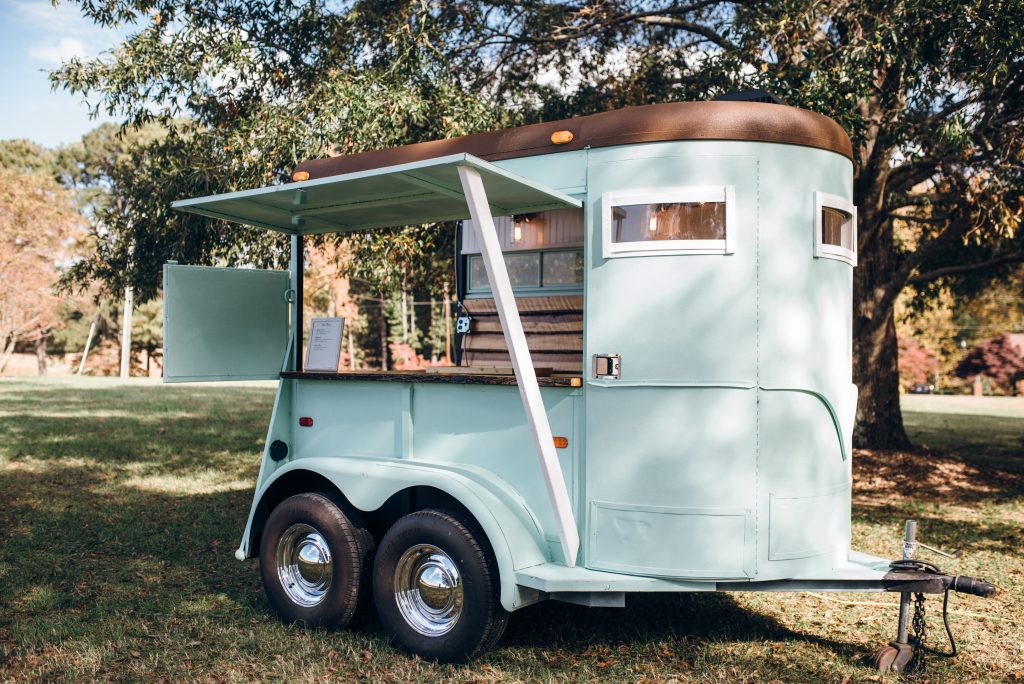 Our pre-ceremony cocktails provided by Brewmaster's Mobile and their adorable Heidi!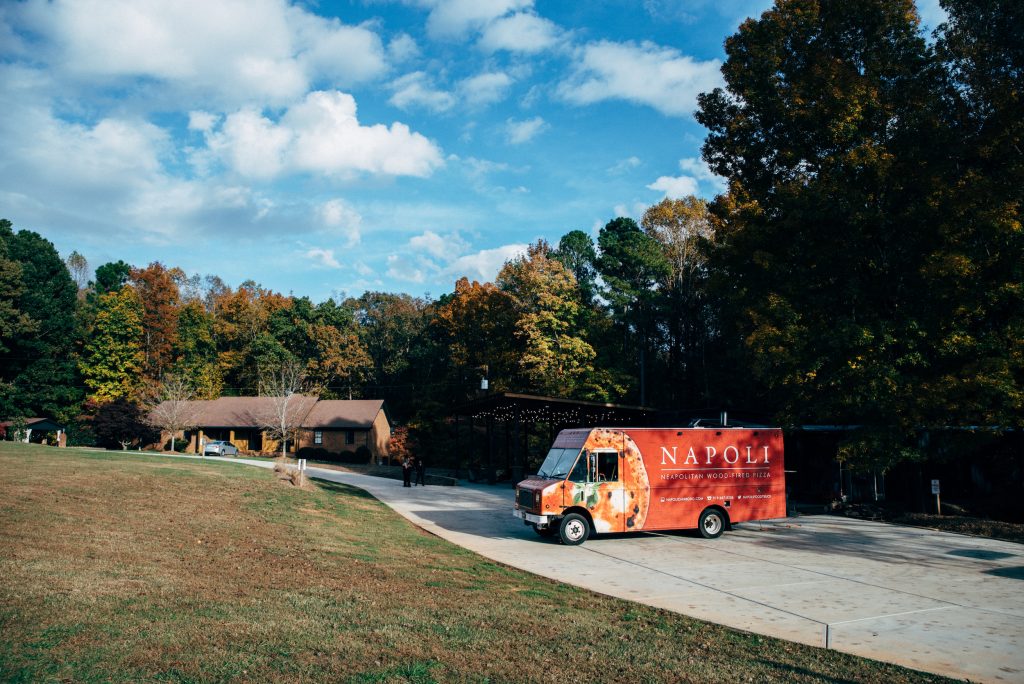 Napoli Neapolitan Pizza parked outside of Heron Hall.
Inside Heron Hall.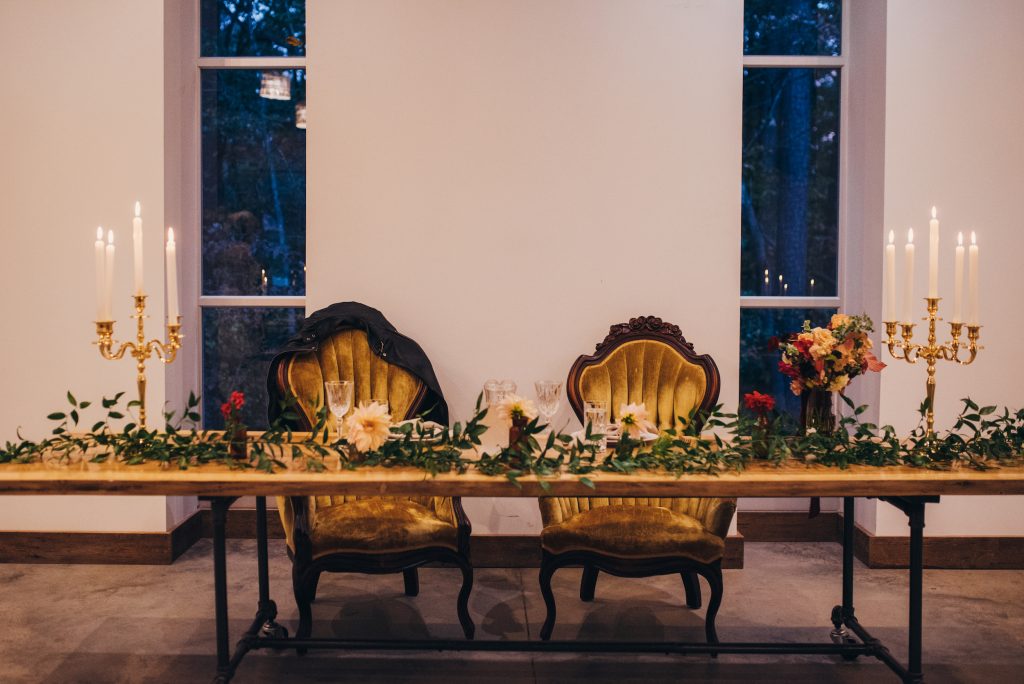 Our table inside Heron Hall with the beautiful pine trees as our backdrop.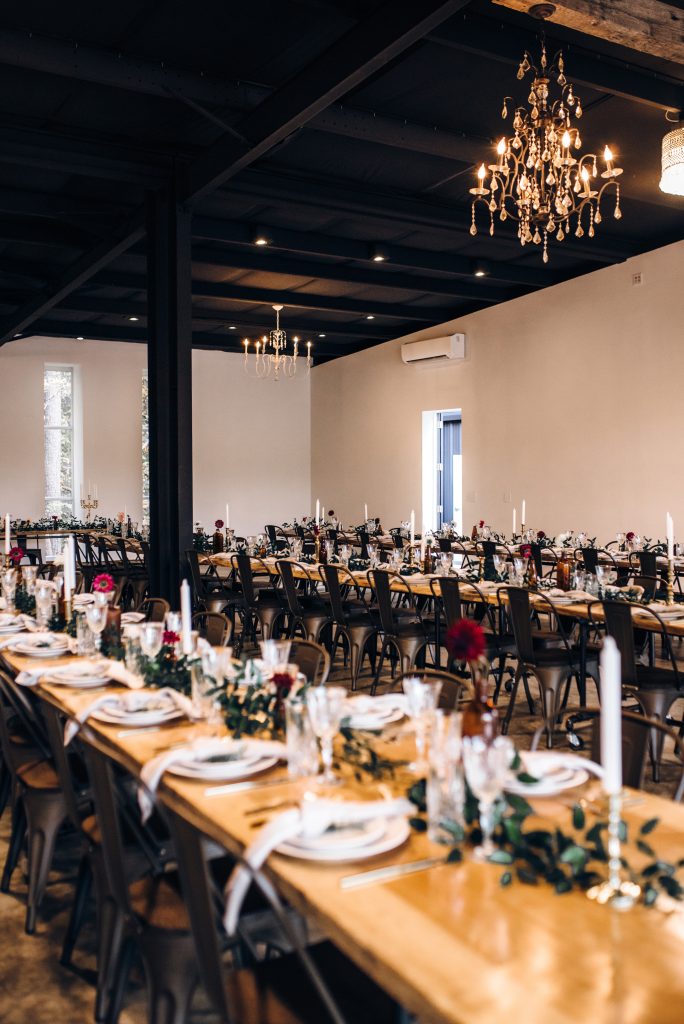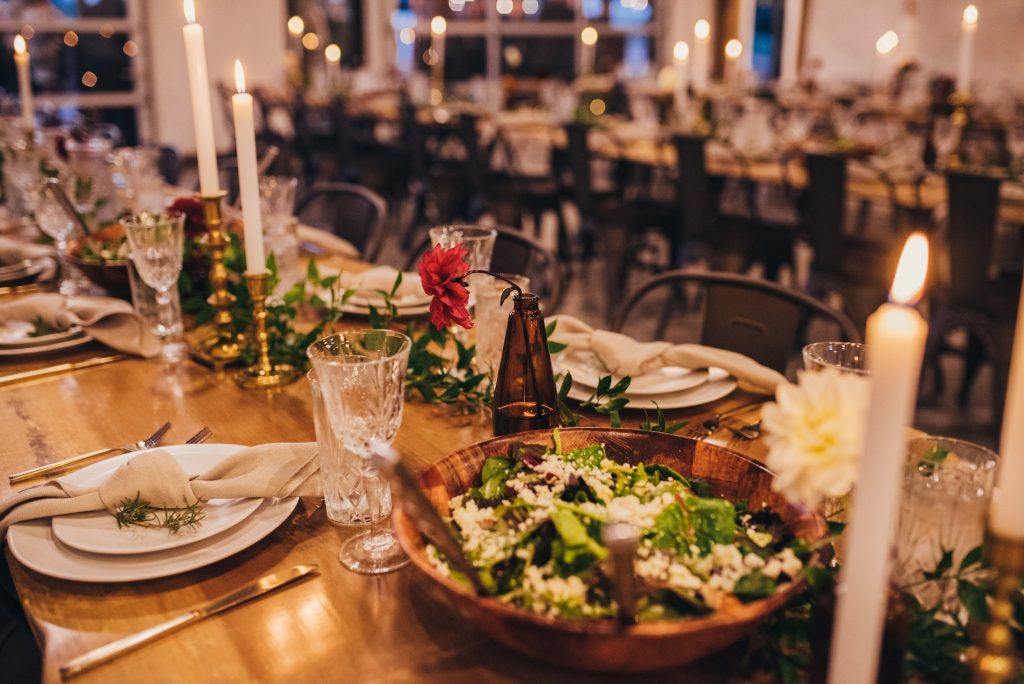 A little after 4:00 it was time to start. While everyone took their seats, "Hold Me" by The Sweeplings played. Everyone was seated. Nathan walked down the aisle with our officiant to the alter. Then "To Build a Home" by The Cinematic Orchestra began to play and the first bridesmaid and groomsman began the 2:00 minute walk from Aerie House through the winding pathway to the meadow. We chose this song because we wanted it to elicit all of the love, peace, and beauty that we experienced in The Meadows.
Even now when I listen to it I can hear the soft whisper of the grass blowing in the wind; the sound of the earth underneath my shoes as I walked out of Aerie House at exactly 4 minutes and 2 seconds into the song to meet Nathan at the alter.
Nathan and I were able to make our ceremony vision come to life. We were married in the meadow. Down an aisle lined with Persian rugs. Underneath an alter with greenery and flowers. With the wind blowing through the golden grass. Surrounded by our friends and family.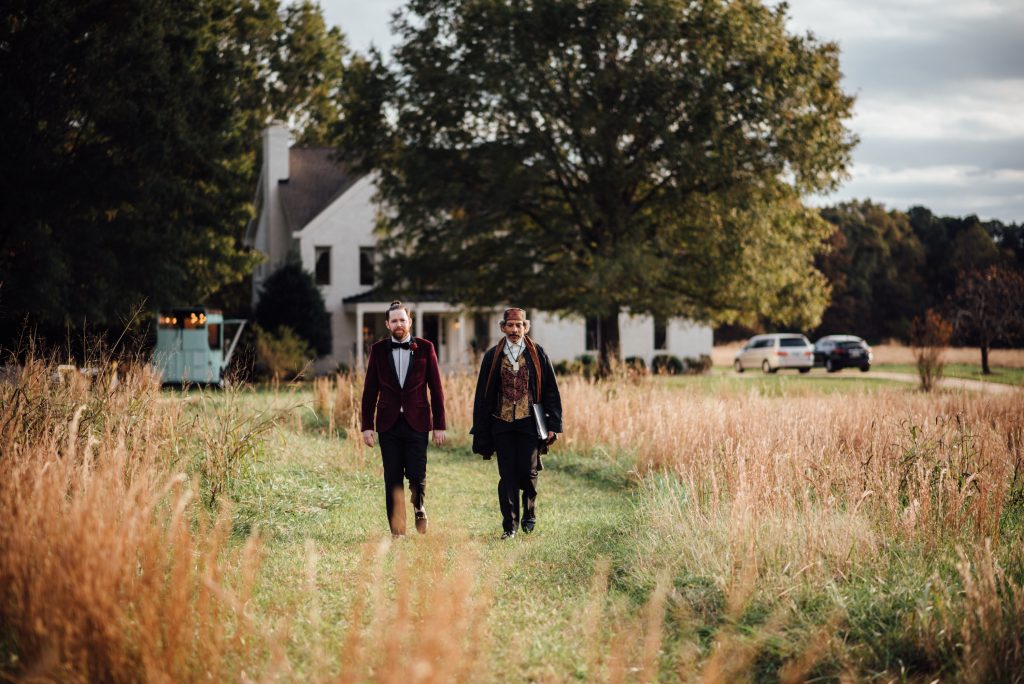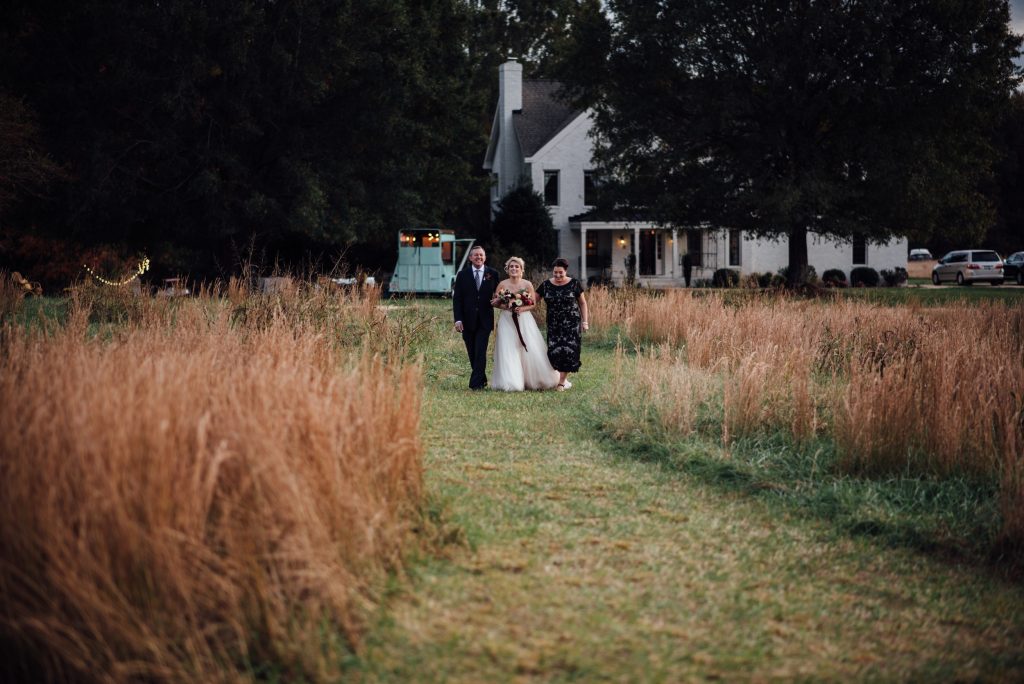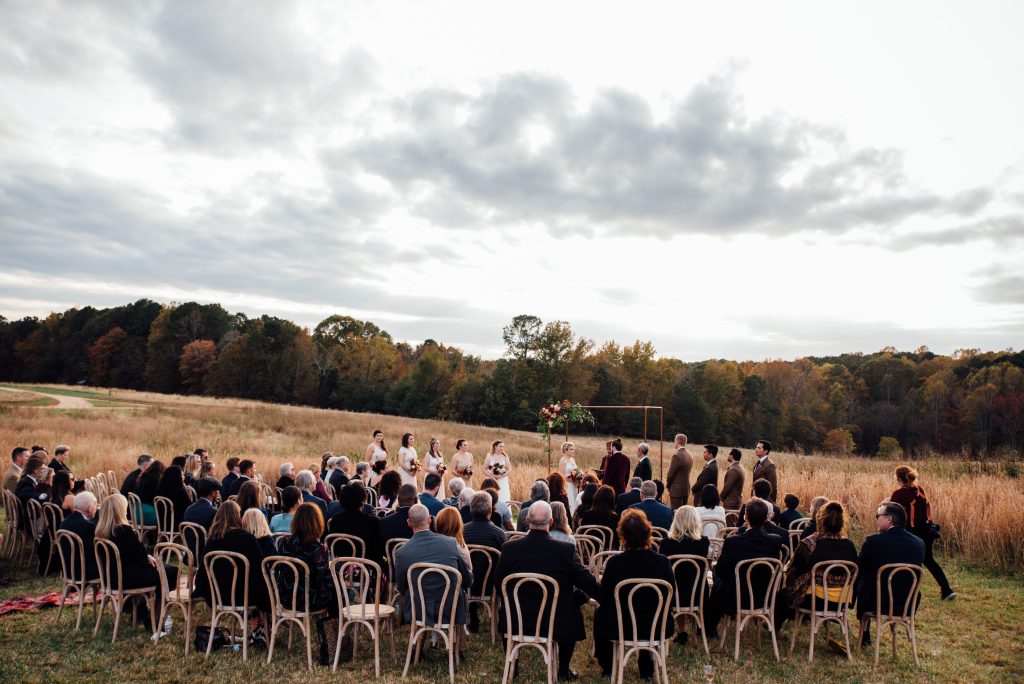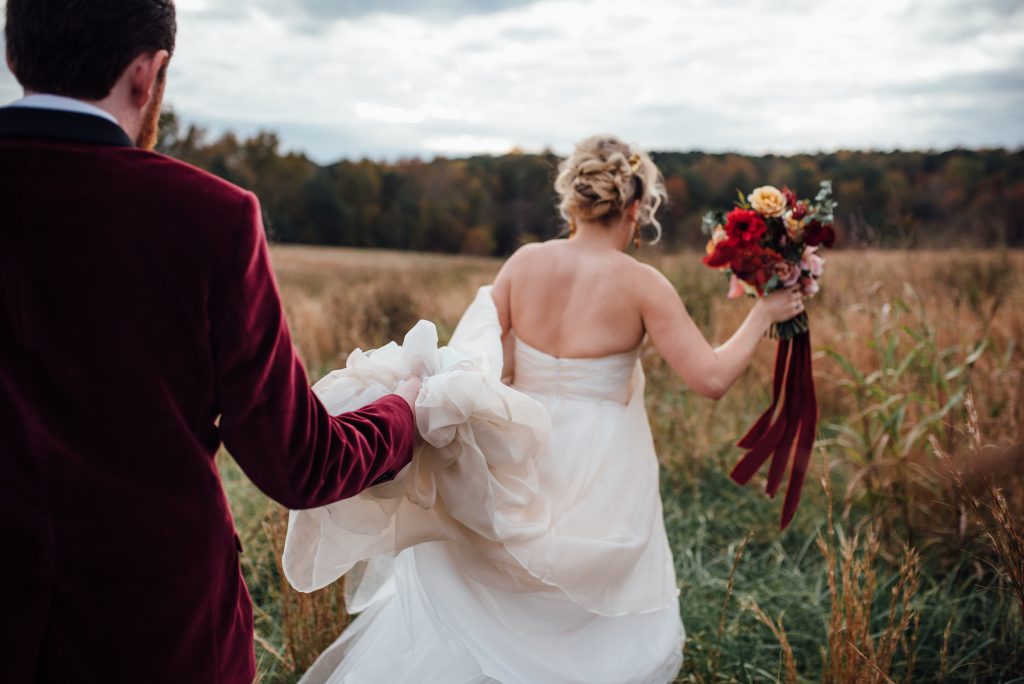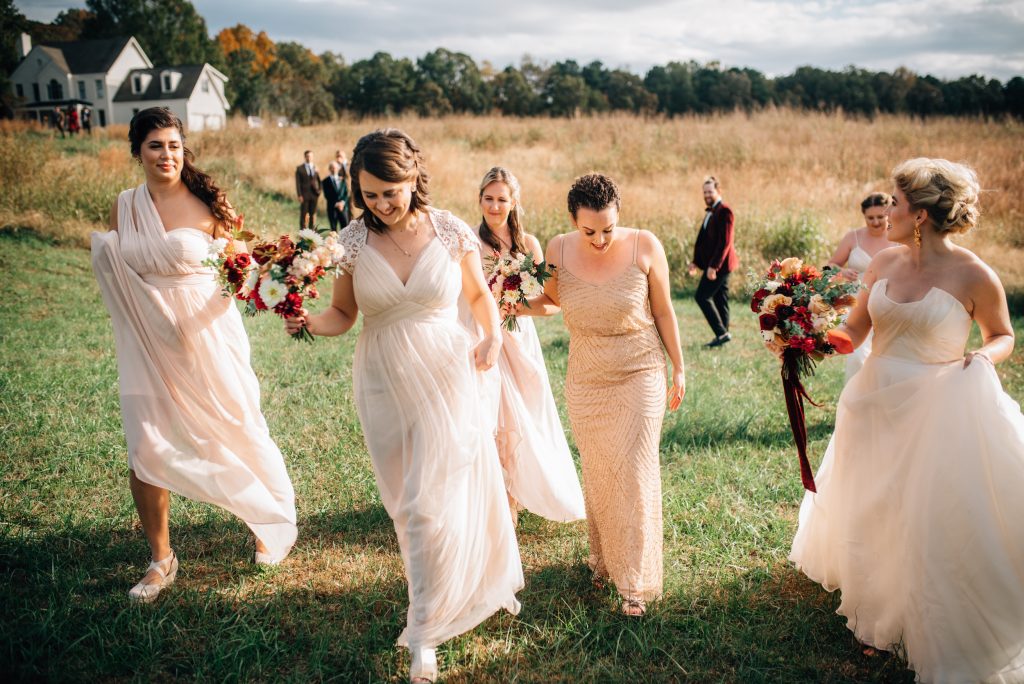 After we finished our photos, Nathan and I got to join the party that was well underway. I'll never forget walking (half-running), hand-in-hand with Nathan down the hill from Aerie House towards Heron Hall and everyone clapping and raising their glasses. It was an amazing moment.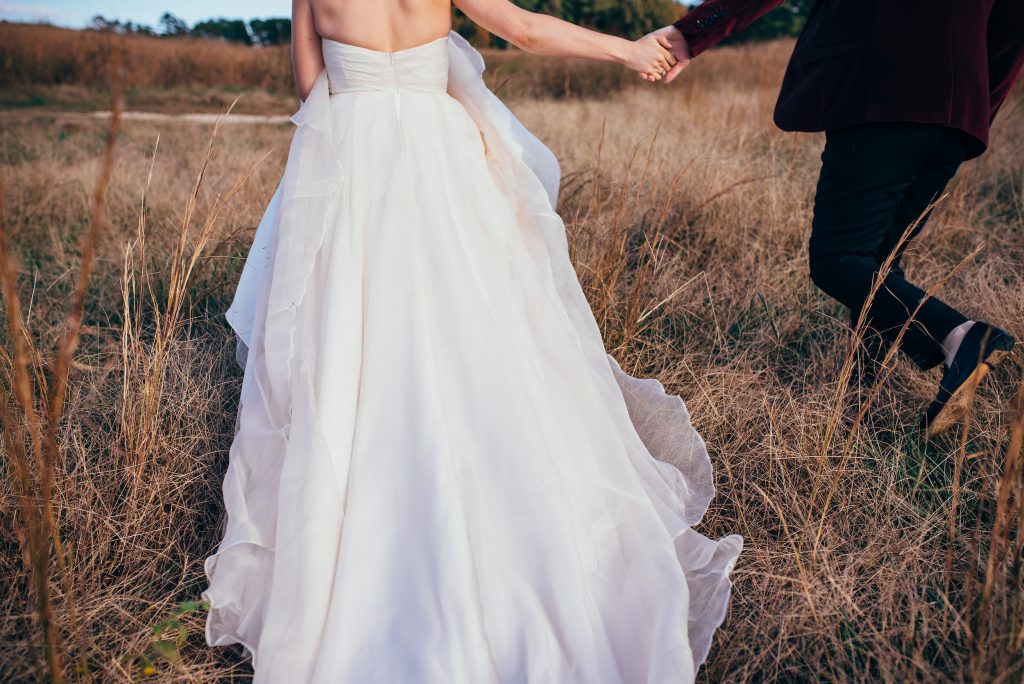 We spent a lot of time thinking about the design of our reception space. We wanted people to have space to connect with each other, eat, drink, and dance – but not necessarily all in the same space. We had our formal dinner in Heron Hall and left the rolling doors open during the dinner. That way, if guests wanted to go outside they could simply step right outside onto the patio (that had heaters provided by The Meadows) and sit on some of the lounging furniture that we rented from Greenhouse Picker Sisters. The Meadows also now offers all different types of furniture that you can use throughout your event.
We kept Heron Hall open throughout the rest of the night in case anyone wanted a quiet place to talk, or to rest their dancing shoes. Across the breezeway to The Catina was where we had our DJ, dance floor, and bar. Right outside of The Catina, there was a fire pit setup as another space for people to go and enjoy the dancing from afar.
What made this space work so perfectly was that it was all open. People could seamlessly move between buildings and still feel like they were part of what was going on in other areas of the reception.
We spent the next several hours hugging and kissing our friends and family, shedding joyful tears, drinking champagne (that we had a special bride and groom only stash of), eating delicious pizza, and dancing the night away.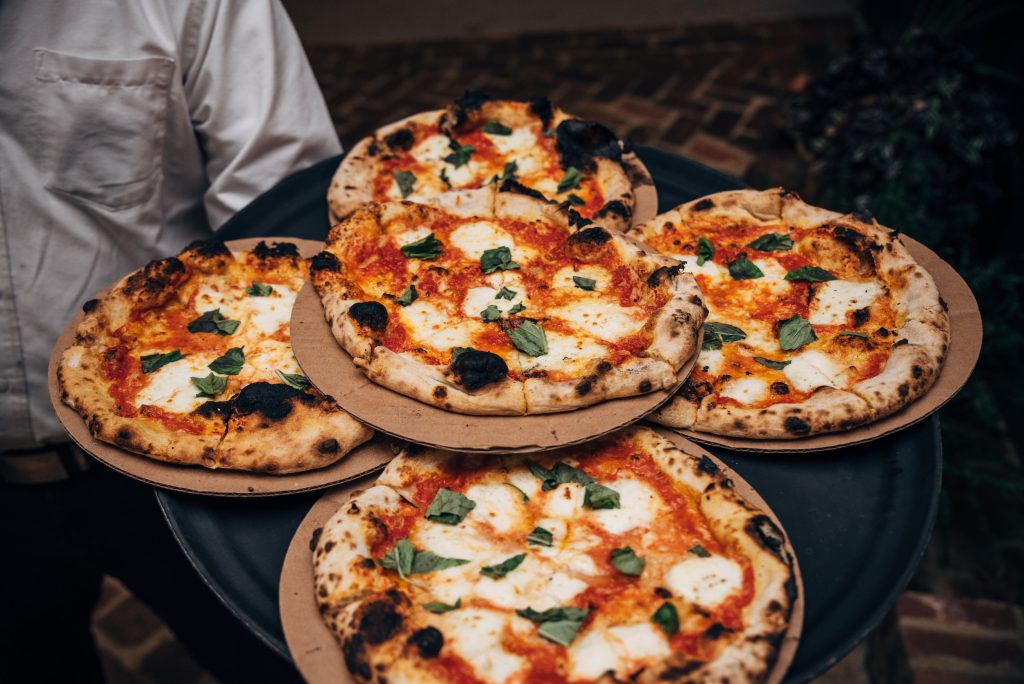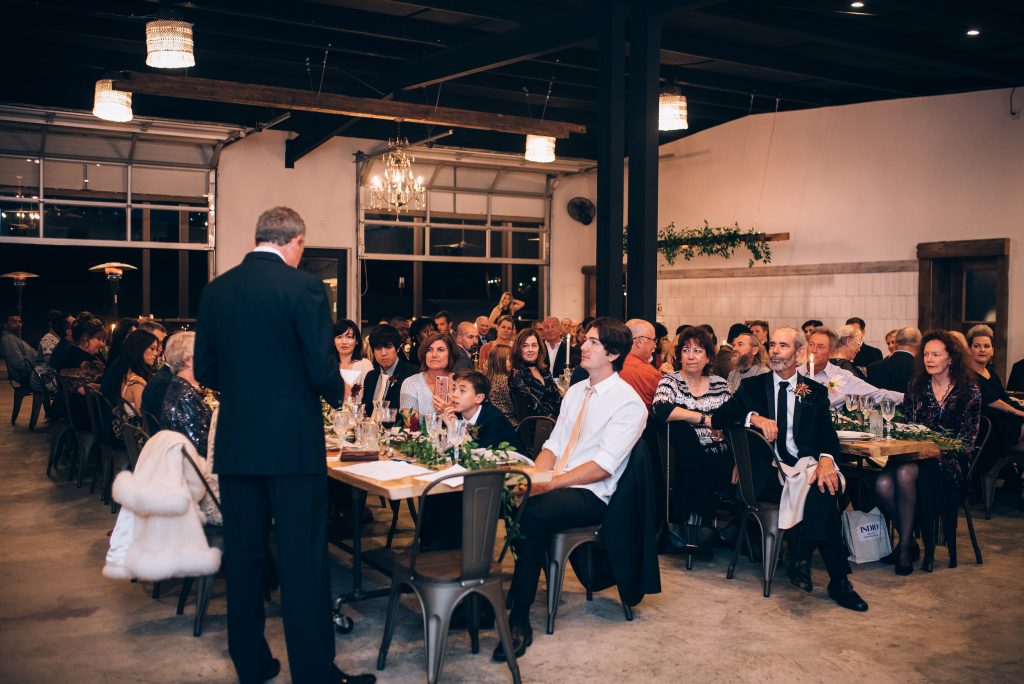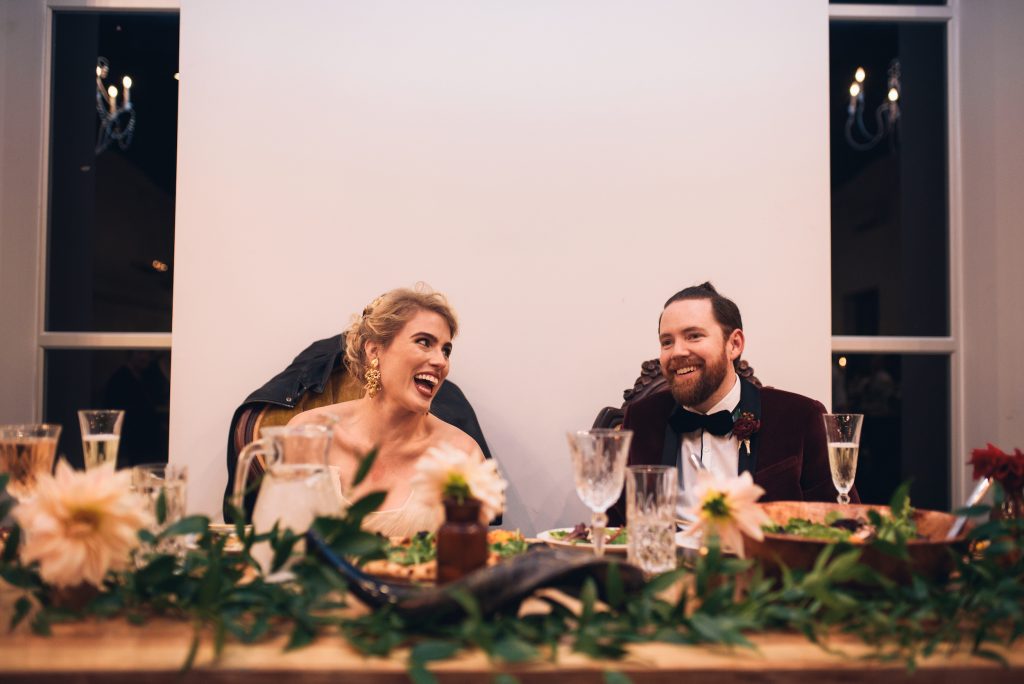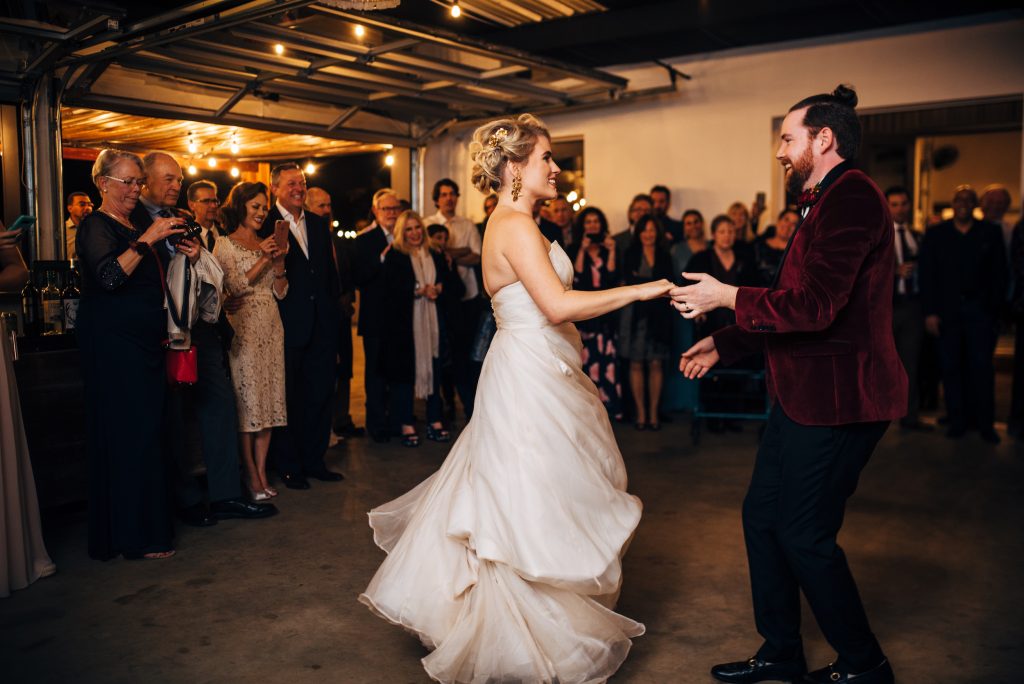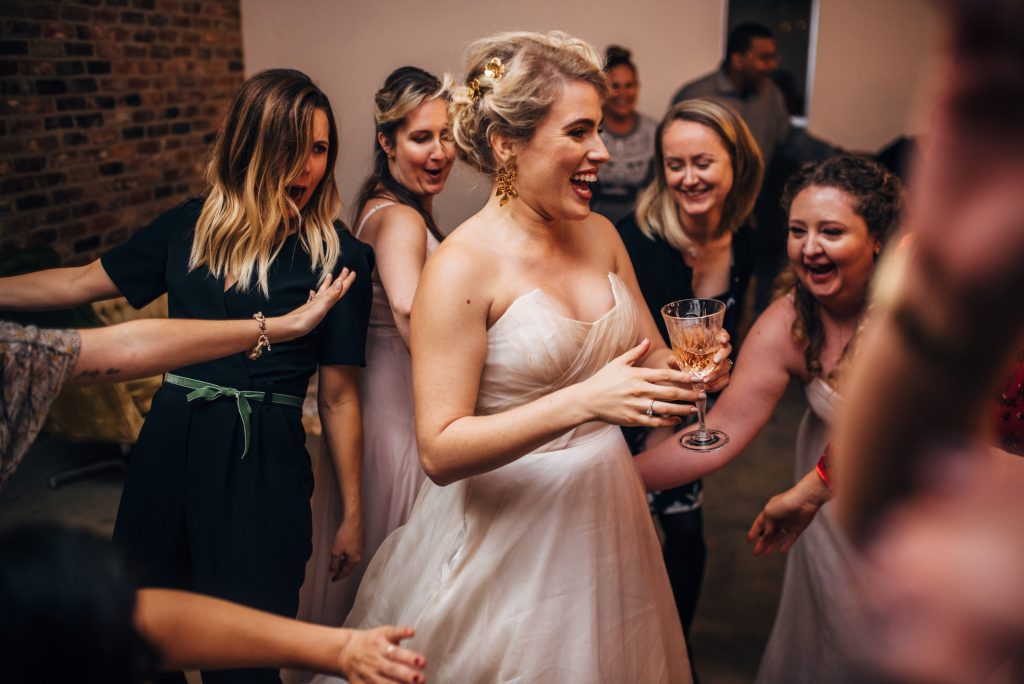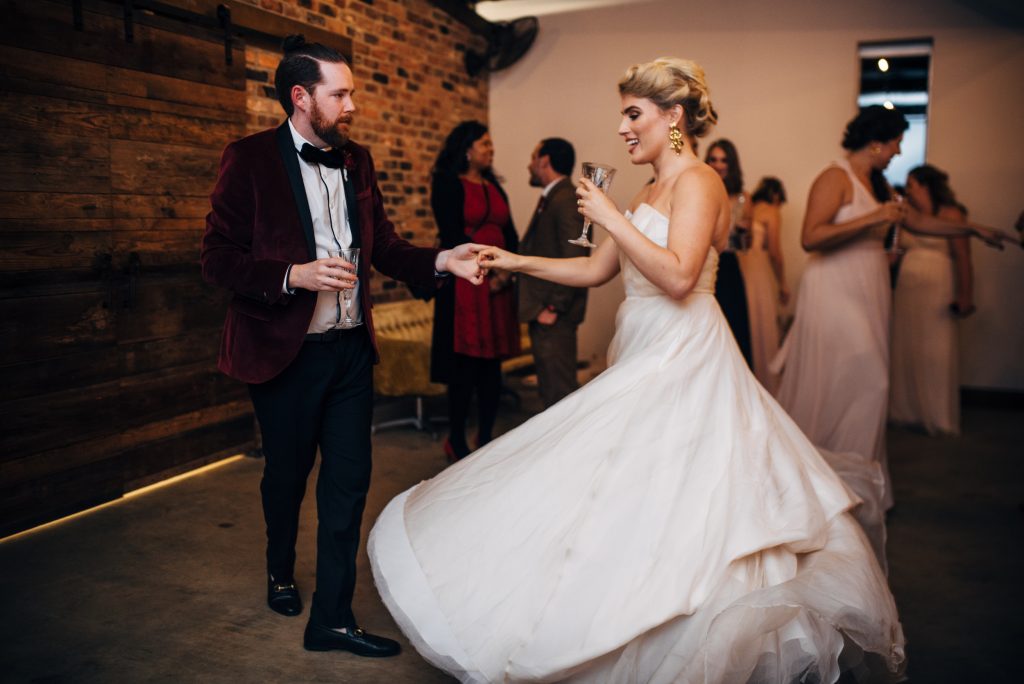 The next morning, Nathan and I woke up, exhausted and joyful, and the first thing he said to me was, "I want to get married everyday."
I know that our wedding would not have been the same at any other venue. The Meadows inspired us with its beauty, and its caretakers helped make this day the best day of our lives.
---
The Meadows is hosting their 2020 Winter Showcase on February 8th, 2020 which will include giveaways, food and drink samples, and a chance to experience this breathtaking venue for yourself.
I'll be there doing an Instagram takeover for The Meadows (visit them on Instagram here) so be sure to follow along for some behind-the-scenes and more stories about our wedding day!
---
#iwannaKrowoldwithyou Vendors
Venue: The Meadows at Firefly Farm Preserve
Photography: Three Region Photography
Planning + Design: The Lion House
Florals: Color Fields Farm
Catering: Napoli Neapolitan Pizza Catering
Cake: Ashley Cakes
Beverages: Brewmasters Mobile
Rentals: CE Rentals / Greenhouse Picker Sisters
Gown: Gilded Bridal
Hair: Marcella Angelicchio
Make-up: Tease + Blush
*This post was sponsored by The Meadows at Firefly Farm Preserve.