Reading Time:
2
minutes
---
I don't know about you, but I have a lot of long-distance friendships. Some of these ladies have been in my life for over 20 years! Needless to say, I'm always looking for fun creative gifts to send to them for the holidays that lets them know I'm thinking about them.
Here's some gift ideas for that special long-distance friend in your life: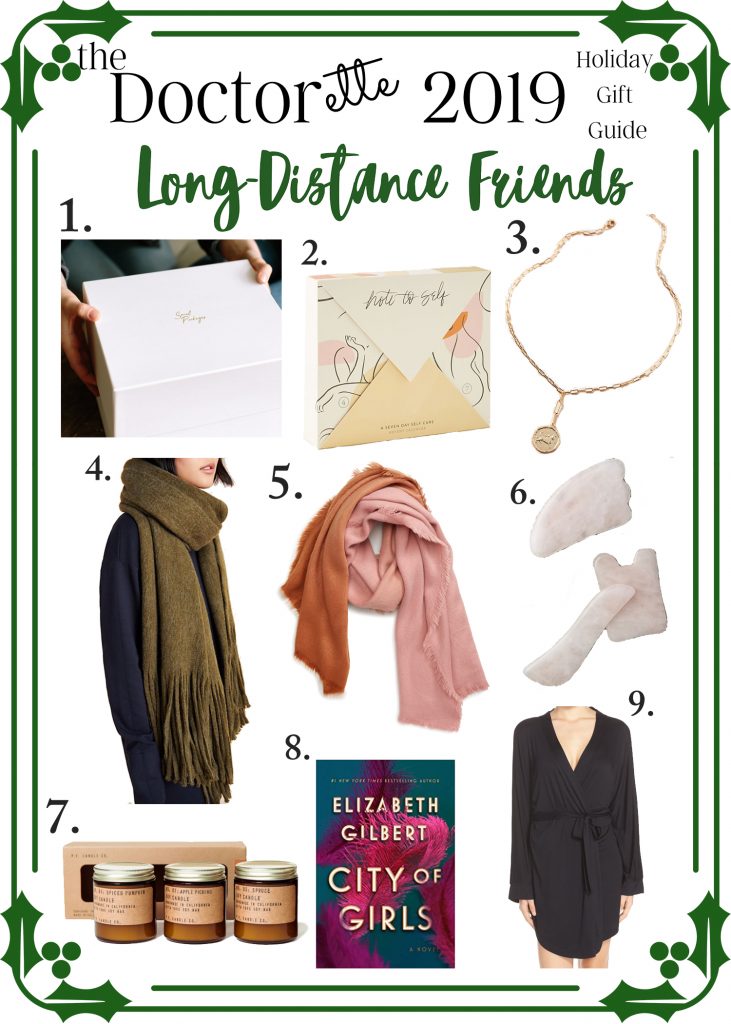 1. Small Packages Co – I love this company. This female-owned small business helps make connection between long-distance friends easier. They recently sent me The Promotion box after I started my new job. I got a little teary-eyed when I opened it because it made me feel so proud of myself for everything I've accomplished. Each box is curated by theme with many of the products coming from small businesses.
2. Anthropologie Note to Self – A Seven Day Self-Care Calendar – We can all use a week-long reminder for self-care.
3. Anthropologie Zodiac Coin Necklace – I've been really into embracing my zodiac sign (Taurus) and this necklace is a stylish representation of my sign.
4. Plushy Scarf – I have this scarf in the olive green color and I wear it all the time.
5. Ombre Scarf – I love the color scheme on this one!
6. Gua Sha Set – Have you tried Gua Sha yet? It reduces inflammation, helps with fine lines and wrinkles, and is a great tool to add to your beauty toolkit.
7. P.F. Candle Co. Seasonal Set – The best scents from one of my favorite candle companies.
8. Elizabeth Gilbert's City of Girls – Starting a long-distance book club with your friend(s) is a great way to have deeper and regularly-scheduled connection. This is on my list of books to read and it would make a great gift for the book lover in your life!
9. Comfy Robe – Can I just live in this robe? Great gift for your girlfriends!