Reading Time:
2
minutes
---
We all know that I'm a big supporter of shopping local and supporting our local makers. Here's a few of my favorite #MadeinNC items: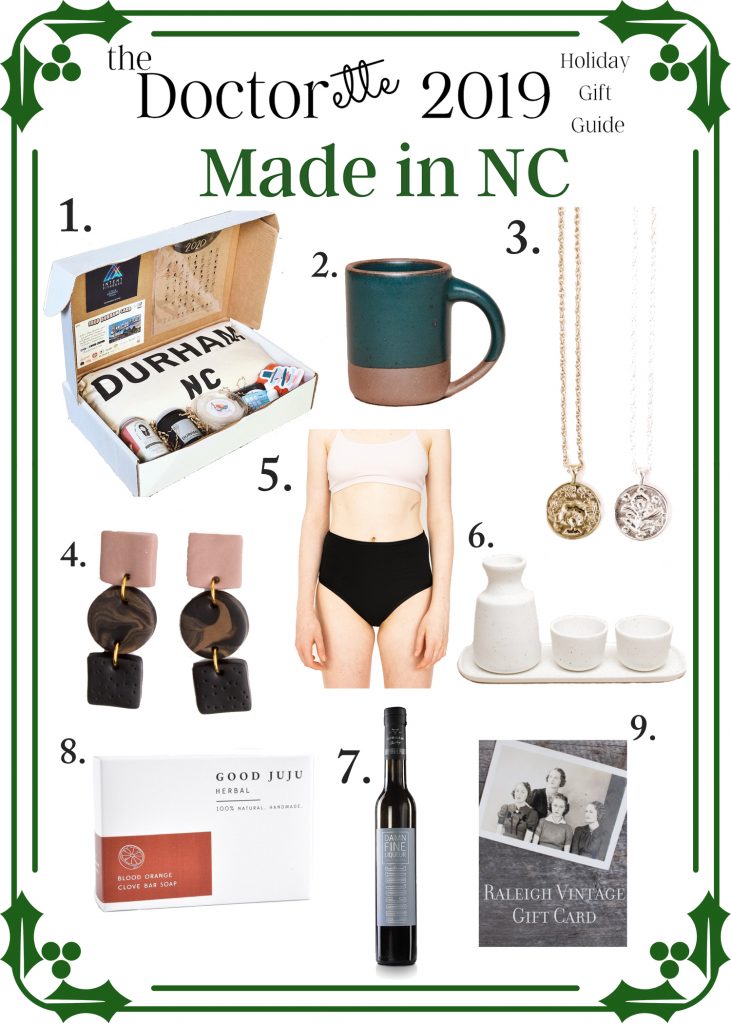 1. The Durham Box – The December Small Business Spotlight feature. So much Durham, NC goodness in this box. This is the gift this season for you are that special someone in your life who loves the Bull City.
2. East Fork Pottery – The Mug – We might have three of these in our mug collection. I have a coffee mug problem but even Nathan doesn't mind adding these beauties to our collection. Made with so much love in Asheville, NC.
3. I Like it Here Club – The November Small Business Spotlight feature. I've been wearing this Wilmington, NC maker's pieces on repeat. They're inspiring, simple, and truly unique.
4. Peppertrain – I've been a fangirl of Peppertrain since I started The Doctorette (see previous post here). Each piece is handmade and unique. There are a variety of styles and color schemes, and she does custom work as well!
5. Lake Jane Studio – This local intimates brand is setting a new standard for feminine comfort. My favorite pieces right now? The High Waist panty and the Camisole – I love the basic black matching set. Makes a great stocking stuffer, or a little something for yourself.
6. Haand Pottery – I absolutely fell in love with their pottery (especially this Sake set) when I first saw it at Vert & Vogue in downtown Durham. Beautiful additions to the collection of any pottery lover.
7. Good Juju Herbal Body Soaps – My absolute favorite soaps. Ever. Like in all the world. I'm a bit obsessed with the Blood Orange and Clove bar right now. It has a mild exfoliant and leaves your skin feeling soothed and soft. Did you know that Good Juju was featured in Vogue this year?
8. Durham Distillery Damn Fine Liqueur – This stuff makes a great host gift! It's excellent over ice, in a cocktail, or poured over ice cream.
9. Raleigh Vintage – Not necessarily "Made in NC" but certainly curated in NC. I recently purchased a set of four vintage coupe glasses at their pop-up at Brewery Bhavana. A great place to find vintage gifts.