Reading Time:
3
minutes
---
Welcome to (maybe) my favorite gift guide this season. We spend a third of our lives sleeping. As I've gotten older, I've put a lot more emphasis on doing everything I can to maintain a good sleep hygiene. Why?…
Prolonged bad sleep quality can disrupt your immune system and make you susceptible to sickness.
Studies have shown that people who sleep less than 7 hours of sleep have a greater difficulty with weight management.
A good night's rest is linked to better concentration, productivity, and overall cognition.
Sleeping an adequate amount each night can help ward off feelings of depression and anxiety.
Here are some items that I use to help set me up for a good night's sleep.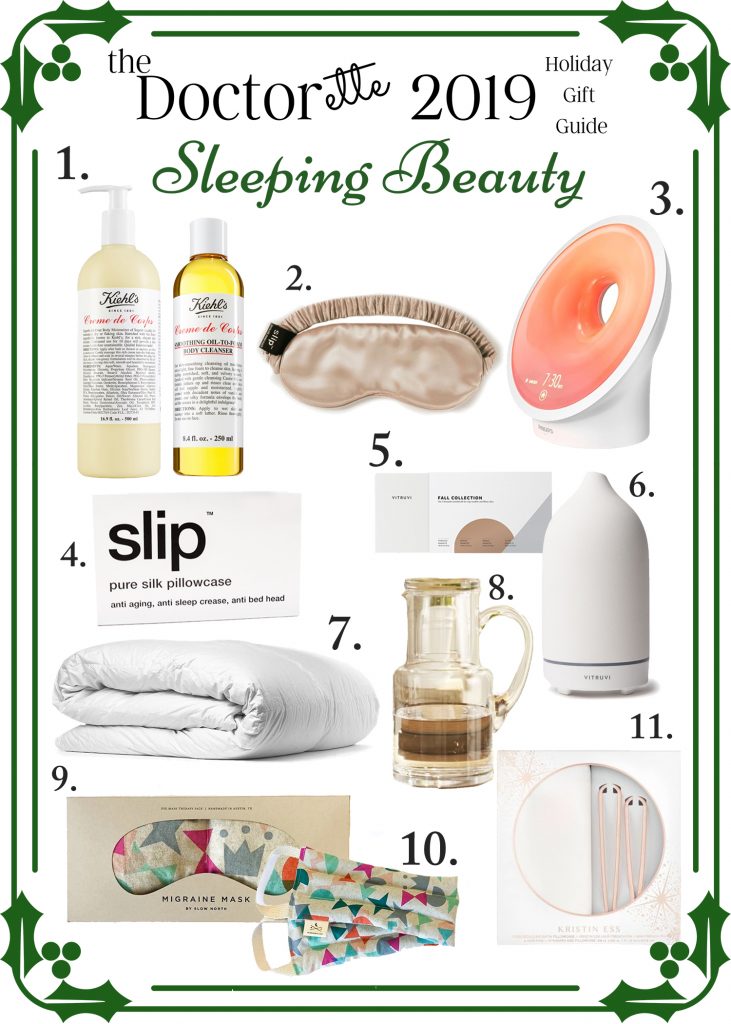 1. Kiehl's Creme de Corps and Kiehl's Creme de Corps Nourishing Dry Body Oil – My favorite moisturizers. I use the body oil first and then layer the lotion on top. Makes me feel like an Egyptian princess before I get into bed. If you're new to Kiehl's there are a bunch of great gift sets with smaller size products for you to try out! I like this set.
2. Slip Silk Eye Mask – I sleep with an eye mask on almost every night. It's especially helpful if your partner goes to sleep at a different time than you. A silk eye mask is also incredibly gentle for your face and eyes.
3. Philips SmartSleep Sleep and Wake-Up Light – Gift this to the early riser in your life! This light will slowly illuminate to replicate the rising of the sun in the morning. In doing so, help you wake up more naturally.
4. Slip Silk Pillowcase – Back at it again with Slip Silk. All the same selling points as the eye mask plus all the anti-frizz benefits.
5. Vitruvi Essentials Set – I really like the Fall and the Woodsy Essentials sets.
6. Vitruvi Diffuser – My favorite essential oil diffuser! I've had mine for a few years now and it works great. Easy to maintain and a stylist addition to your space.
7. Parachute Down Duvet Insert – This was one of our wedding registry items. It's held up through several washes and is an all season duvet so it isn't too heavy in the summertime.
8. Pottery Barn Classic Glass Decanter – I always like to have a glass of water by my bed at night. What's annoying is drinking it all and having to go get another glass. So, here's a carafe and glass set perfect for your bedside.
9. Slow North Eye Mask & 10. Slow North Neck Wrap – I have both of these! The difference between this mask and the silk one, is that this eye mask could be put in the freezer, or the microwave. It's perfect if you have a headache or feel like your face is a little puffy. The neck wrap is great for post workout or if you find yourself sitting at a desk a lot. It can also be heated or cooled! You can order them from the links above, or pick them up at a local favorite – Edge of Urge.
11. Kristin Ess Pillowcase & French Hairpin Set – $15 and I believe right now currently on sale at Target for even less than that! I bought several this year because it's such a great value. When I wash the pillowcases I let them hang dry and that has help maintain them. I also use the French pin in my hair almost everyday.