Reading Time:
6
minutes
---
Every month, I highlight a favorite small business on The Doctorette. With the holidays approaching, I want to share some facts about why it's important to shop small.
Did you know…
…that there are 28.8 million small businesses in the country.
…that small businesses account for 99.7% of all businesses in the US.
…that franchised small businesses employ roughly 8 million people, and make up 40% of all American retail jobs.
…that small businesses donate 250% more than larger businesses to non-profits and community causes.
…that for every $100 you spend at locally owned businesses, $68 will stay in the community. What happens when you spend that same $100 at a national chain? Only $43 stays in the community.
Supporting small businesses is a passion area of mine – and hopefully, yours too! In addition to all the reasons I listed above, small businesses are invaluable in the creation of diversity in the workplace and serving as a cultural representation of our communities.
For the month of December, The Doctorette is excited to feature The Durham Box, a curated guide box of local makers and businesses.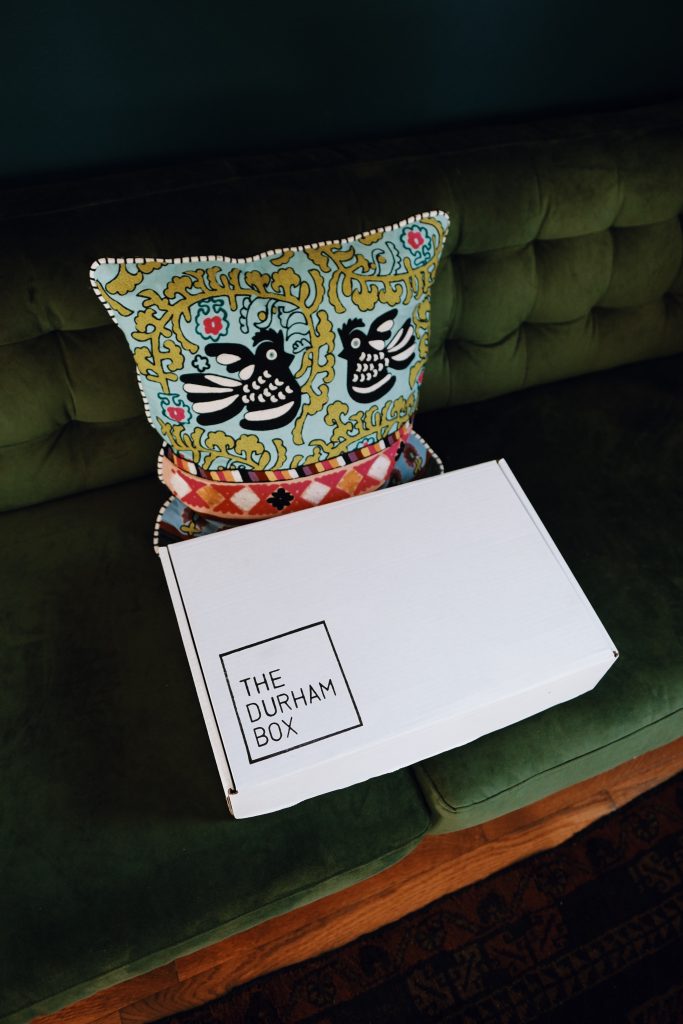 The Durham Box / Couch: West Elm Rochester Sofa
---
Meet the Founder
Meet my good friend, and fellow Durhamite, Cameron Renfrow, the founder of The Durham Box.
Some of you might know Cameron as the curator and designer behind Nouveau Central and the Instagram account @shopnouveaucentral where he hosts a weekly sale of thrifted goods. He also blogs about thrifting tips and highlights local Durham homes in his Curated Home Tour.
As a small business owner himself, it was challenging to make it out to support other local businesses because oftentimes he was busy managing his own business. Cameron is such a community person. He is always out there cheering others on but he wanted a way to be able to support other Durham businesses all in one space – which is where the idea for The Durham Box was born.
In his dream of dreams, he always wanted to make a subscription box, but when he came up for the idea for The Durham Box, he felt like it was so much more than that. He calls it a guide box because the items included are small quantity, often handmade, and a real representation of Durham's community.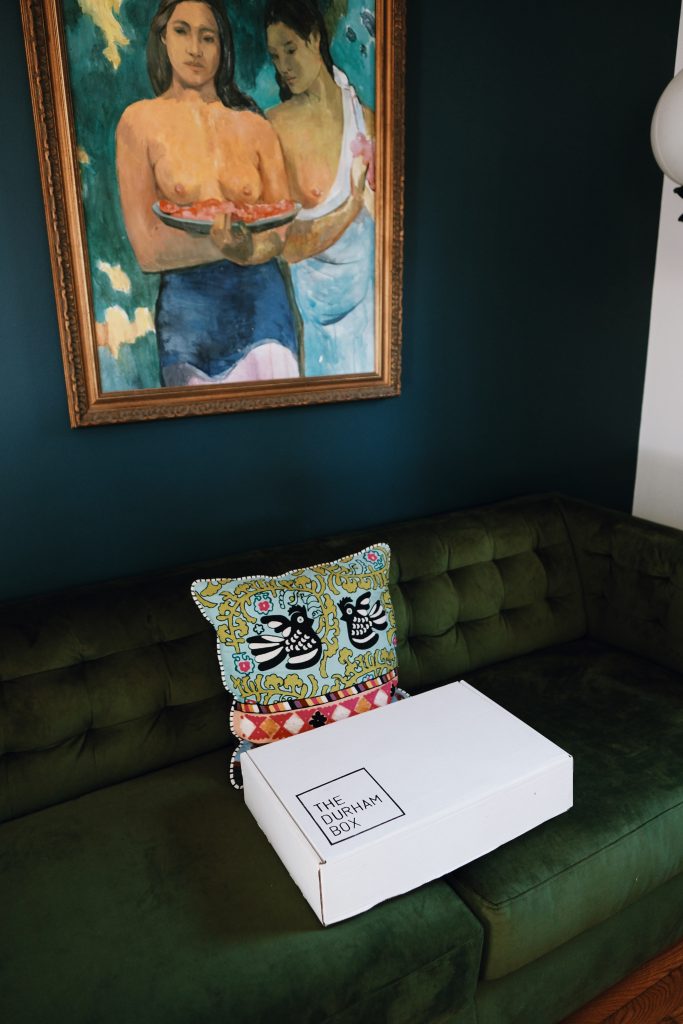 The Durham Box / Sofa: West Elm Rochester Sleeper Sofa / Painting: Reproduction by Allyson Krowitz / Pillow: Anthropologie (old)
He saw The Durham Box as a way for the community, and himself to discover what Durham has to offer right now, and for the future.
---
Made in Durham, for Durham
One of my favorite items in the box is the "DURHAM, NC" linen pillow designed, hand-stamped, and painted by Cameron, of Nouveau Central, himself! The pillows included a down-filled insert and are absolutely a labor of Durham love. It's a perfect accent pillow for your living room, bedroom, or guest room to showcase your Bull City pride.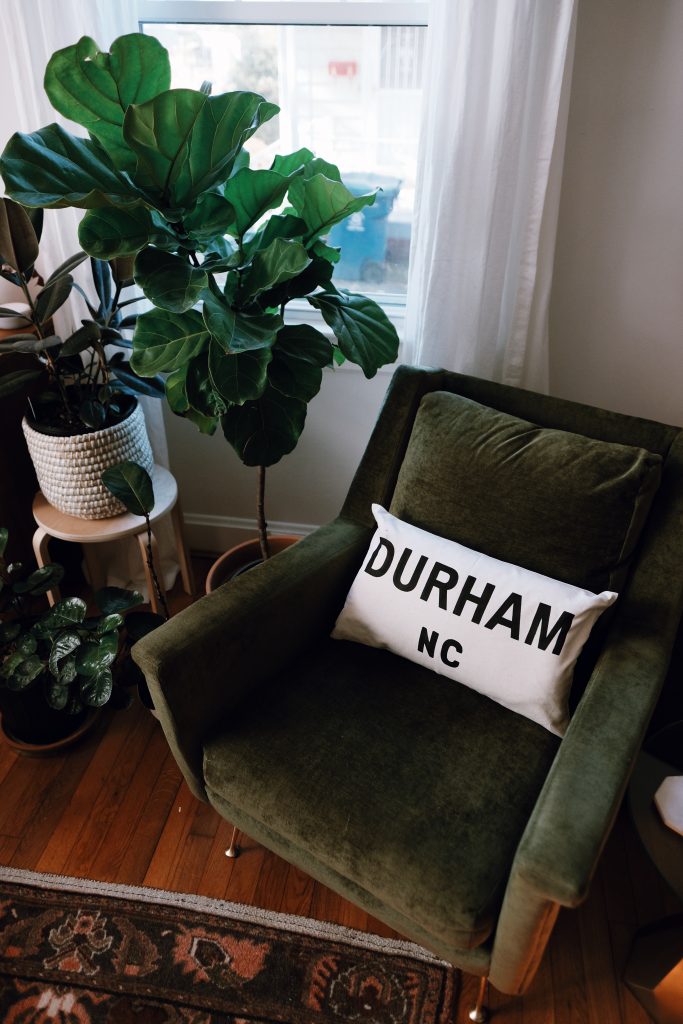 "Durham, NC" pillow by Nouveau Central included in The Durham Box / Chair: West Elm Carlo Mid-Century Chair in Olive
I was recently introduced to Bright Black Candles at Kinshop and what I loved even more than the candles themselves is the story behind them. This family business is using the power of scent as a way to change the narrative around Blackness. In the Diaspora collection, they include five candles that represent five cities that honor Black greatness, including the Bull City, Durham. This candle is a pleasing blend of tobacco, cotton, and whiskey.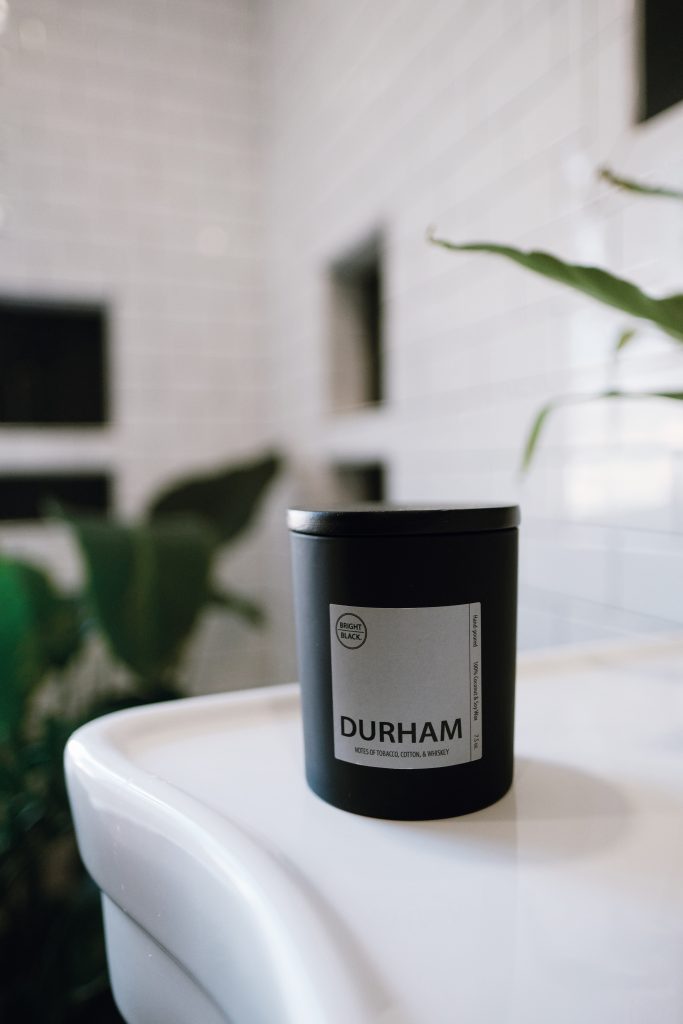 Bright Black Candles – Durham Scent included in The Durham Box
Have you visited Jeddah's Tea in downtown Durham yet? Well, if you haven't had a chance to sip tea in their beautiful bohemian space, now you can sample their brand new canned teas right from The Durham Box. Pictured below is one of their new teas Bissap Senegalese Hibiscus Tea, which has notes of citrus, cinnamon, and vanilla.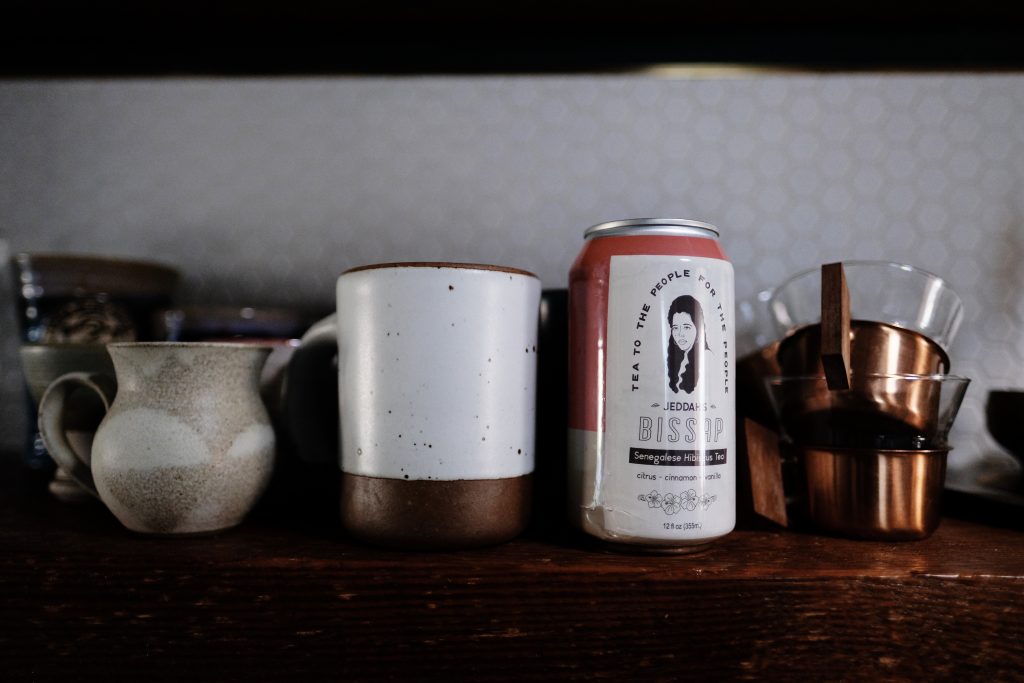 Jeddah's Canned Tea included in The Durham Box / East Fork Pottery, The Mug in Eggshell / Various other mugs: Thrifted
When I asked Cameron what his favorite item was in the box he hestitated because there are so many amazing makers it's hard to choose just one. However, he settled on the Bright Black Durham candle and the Jeddah's Tea (two of my favorites as well) because they're both made by women of color. It was really important to Cameron to showcase, not just the diversity of talent in Durham makers, but also the diversity of the makers themselves. He wanted to create a collection of items that could be a symbol of our community's inclusiveness.
---
What's inside?
Here's a little look at some of the local Durham businesses who will be included in the first box:
You might also see some other familiar names like Wonderpuff, Shop Durham, Rivtak, & Intent Fithouse (just to name a few!).
In addition to all of the local goodness you'll get inside the box, you'll also get access to the Shop, Food, & Drink Guide on The Durham Box website which will include discounts like 15% off bouquets from Blossom & Bone Floral Truck and 20% off drinks from Nolia Coffee Shop.
The Durham Box will make its debut today in celebration of Small Business Saturday, and will be distributed to consumers no later than December 13th. The cost for the box (and for all future boxes) is $89.99 (the first box has an estimated value of $150+). There are only 75 boxes available – and for the first launch there are even less available for purchase because of the Kickstarter rewards.
You might be wondering, why only 75 boxes? A lot of the makers included in this box are making their products my hand. Cameron laughed when I asked him about this and said, "If someone asked me to make 1,000 pillows, I would be like, uh, thanks, but that's crazy." All of these makers are using the best materials and pouring their heart and souls into their products.
So, if you want to get your hands on one of these amazing boxes for yourself, or as a gift, be sure to visit The Durham Box online before they sell out!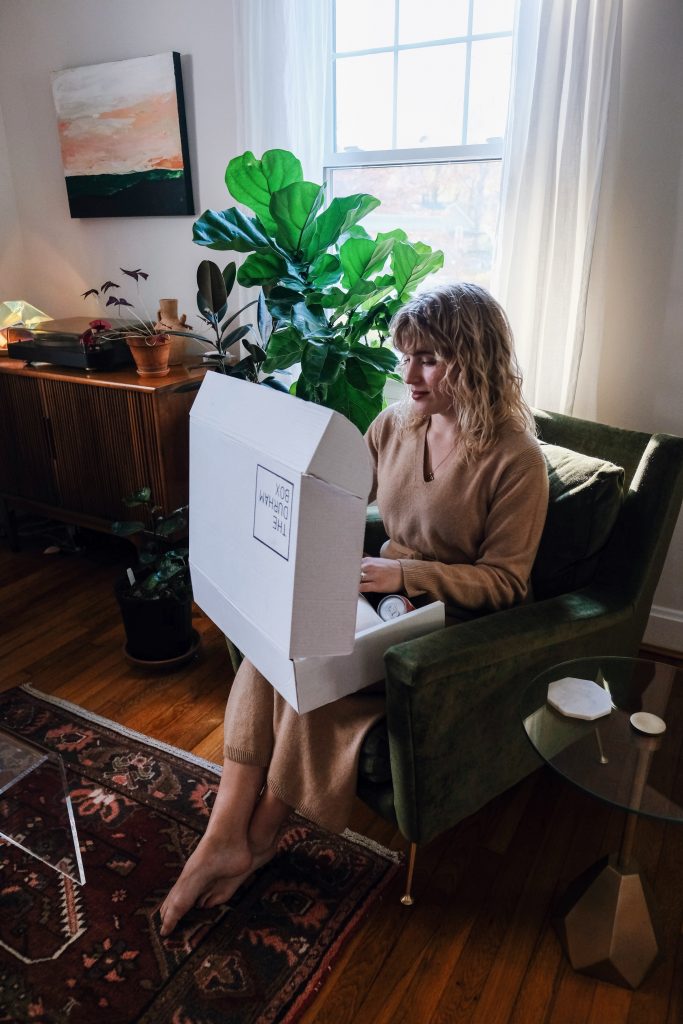 Chair: West Elm Carlo Mid-Century Chair in Olive / Dress: Vince / Side table: World Market (old) / Media Console: Consigned / Painting: Angie the Rose / Geode light: West Elm / Rug: Thrifted from Nouveau Central
When I asked Cameron what he was looking forward to the most about the launch, he said seeing people posting on social media with their boxes, or discovering a new business they didn't even know existed in Durham. To him, the real reward is going to be watching people get a broader understanding of everything our city has to offer and hopefully that passion for our local businesses will spread throughout our community.
---
Giveaway
One lucky reader is going to win one of these coveted boxes and I feel like Oprah right now because these boxes are truly fantastic.
Here's how you win:
Be sure you're following both The Doctorette and The Durham Box on Instagram
Like the giveaway post (linked here) on The Doctorette account
Giveaway will close on Saturday, December 7th 11:59 PM EST. Winner will be announced on Monday, December 9th.
Good luck! And thank you for helping to support another amazing small business.