Reading Time:
5
minutes

Welcome to the gift guide that I have been most excited about!
What have I done here? Well, I've rounded up all of my favorite local makers and shops in one easy shopping guide.
But first, why is shopping local so important?
Did you know that a study in 2014 found that for every $100 you spend in a chain store only $43 remains in the community versus $68 when you shop at a local small business? Additionally, when you shop online (which we all do – I mean, Amazon Prime) virtually no money stays in your local community.
Besides, by keeping money in your community, you also create local jobs, help the environment, and embrace what makes your community unique!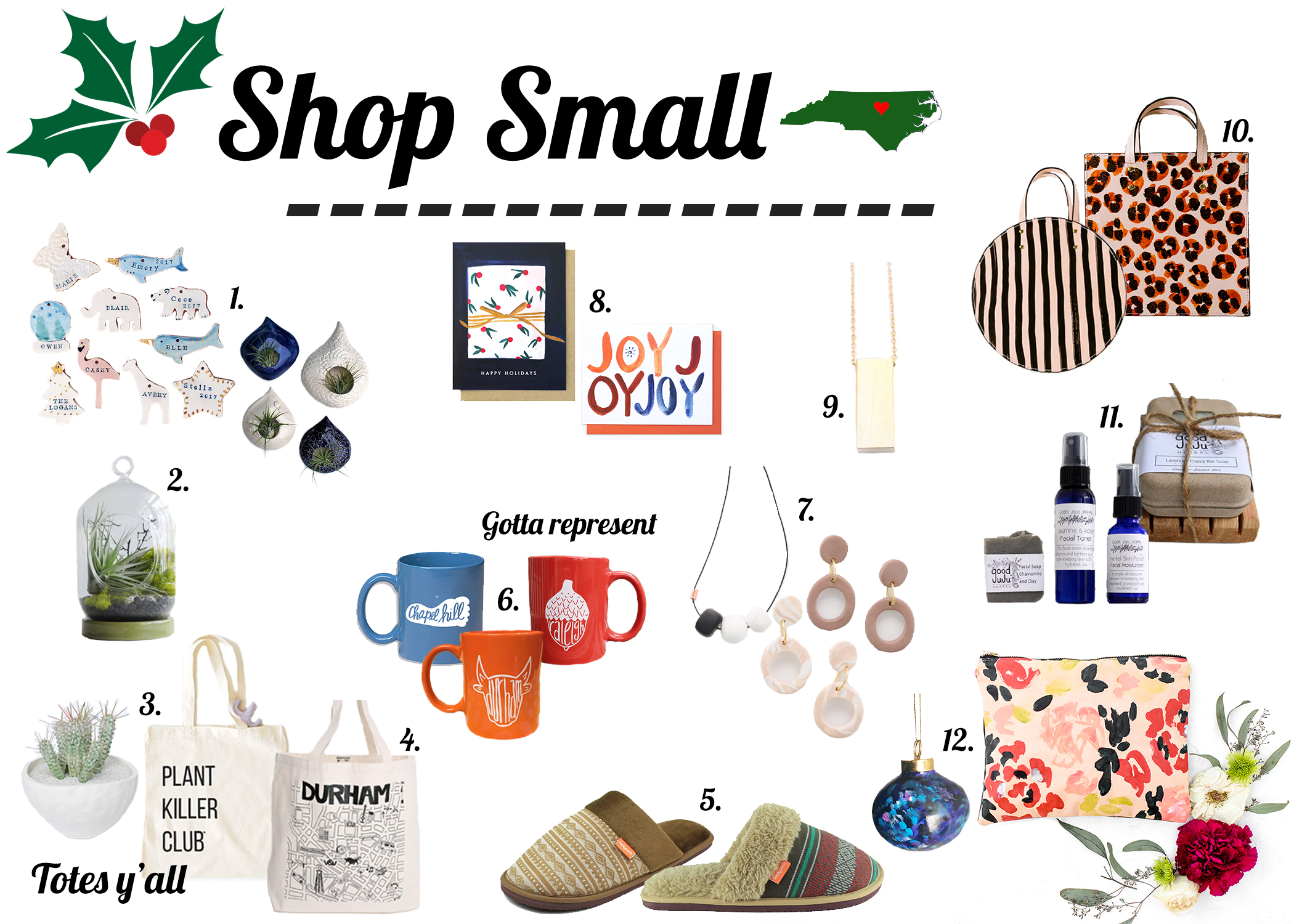 Keep in mind that these are just a small handful of all the truly incredible local businesses we have in our community! I've also created a list of my favorite local shops, all of which are committed to promoting local makers and entrepreneurs.
Where can you shop all of these (& other) amazing makers? Well, besides their store fronts, there are a bunch of holiday events happening in the triangle where you can shop a lot of them all in one place! Yes! *happy dance*
Dec. 2nd, 10-5: Elf Market at The Arts Center / Carrboro, NC
Dec. 6th, 6-9 (free, but RSVP required): Night Market: A Holiday Shopping and Cocktail Party at The Durham Hotel / Durham, NC
Dec. 9th & 16th, 10-2: Holiday Pop-up Market at Sola Coffee / Raleigh, NC
Dec. 10th, 12-5: Durham Patchwork Market at the Durham Armory / Durham, NC
Whether you're local or not, shopping small is so important to the economy. Let's keep our dollars in the triangle this holiday season!
Here's more info about the Sustain-a-Bull (Bull, get it?!) project to support Durham local businesses (here).

*This post WAS NOT sponsored. I did this because I love each of these makers/entrepreneurs & I knew you would too. Happy Holidays!