Reading Time:
5
minutes
Today is a Coffee Talk/Wedding Wednesday hybrid – GET PUMPED.
But seriously, it's because my life has been overrun with moving. I'm living in a sea of boxes that say "Lowe's Home Improvement."
While brainstorming a #WeddingWednesday topic for you, I kept circling back to ways not to argue about how you are going to decorate your alter (and all the other wedding stuff), all the way to the alter. Nathan and I had our fair share of heated conversations about wedding planning (especially in the beginning) and have finally found our groove. While packing up our kitchen, Nathan and I came up with a list of 5 things we think will help you and your future spouse make it through the planning process, and to the alter unscathed.
Talk about your expectations.
Looking back, one thing Nathan and I wish we would have done a better job at was discussing our expectations for this process, because it is a process that takes time, attention, planning, and a lot of work. I'm the epitome of a Type-A planner. I was a list-making, researching maniac before Nathan even had an opinion on where and when we should get married. It's easy to interpret someone's lack of speed (comparatively speaking) in planning as disinterest, when really it's just a difference in expectations – expectations of your wedding itself and of each other.
It's important to make sure that you discuss your expectations of your wedding with each other. What type of event do you want this to be? Intimate or party-like? How much money do each of you want to spend on your wedding? Will you be paying for it yourselves, or will you have help from others (e.g., parents)? If you're getting help, will it be equitable or will one side be financially supporting the efforts more than the other? If so, how does this play a role in decision making power, if at all? These are all super important questions that sometimes get pushed to the side when you are in the excitement of planning your wedding. You want to make sure that neither of your opinions are overshadowed and that both your voices are represented in the final product.
The other side of expectations is what do you expect out of your future spouse? At the beginning, I did the lion's share of the research for much of our larger ticket items (e.g., venue, photography, wedding planner, catering) and it was definitely stressful. Between working full-time, blogging, consulting, and planning a wedding, I was juggling way too much. If Nathan and I had sat down and spent more time talking about how much we expected the other to be involved in different pieces of the planning process, I may not have been so overloaded in the beginning. Of course I was soliciting his input on everything, and he went to see most of the venue options with me. For us, it was also difficult because he travels during the week for work, which meant that most of our free time was during the weekends. This is a bit of a snag when you're scoping out venues because most of them have events scheduled on the weekends and only schedule tours during the week.
Listen.
This might seem obvious, but let's face it, when we're overwhelmed, we're not great listeners. You need to be open to your future spouse's opinions – even if he does want the Hava Nagila to play at your wedding while you're hoisted up in a chair holding on for dear life. At some point you're going to disagree, and that's okay. It may not seem okay in the moment, but it is. Your style and your spouses style may not match. Your opinions on the type of music that you should walk down the aisle to may be different. At the end of the day, what's most important is that you listen to each other, respect each other's opinions, and try to find a way to have both of your creative voices present in the wedding.
Stay organized.
I cannot express enough how important organization is. Remember that whole Type-A thing? Yeah, I have two running excel sheets. One for our guest lists that includes any relevant information (e.g., addresses, familial connections, wedding party designations) and our budget sheet. Within our budget sheet is a list of each of our vendors with their contact information and a link to our contract information. Find a method that works best for you to stay organized. WeddingWire has a great Wedding Planner App that's free and easy to use.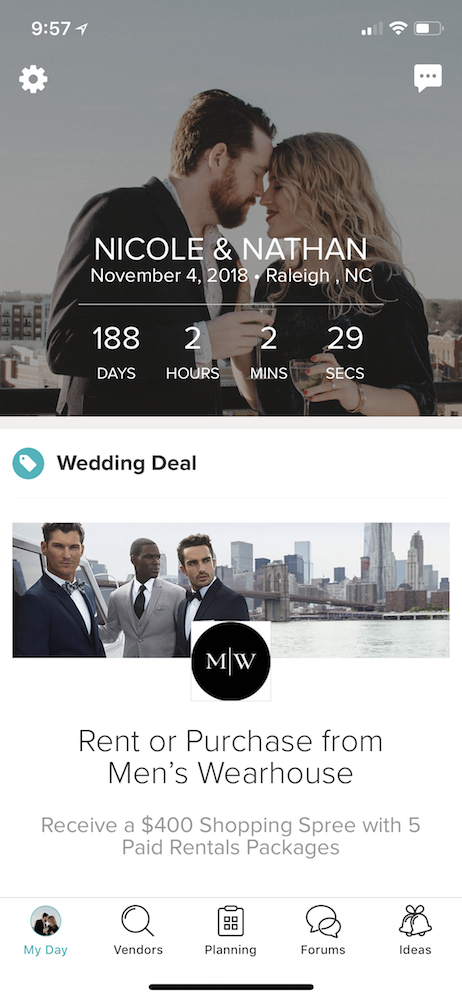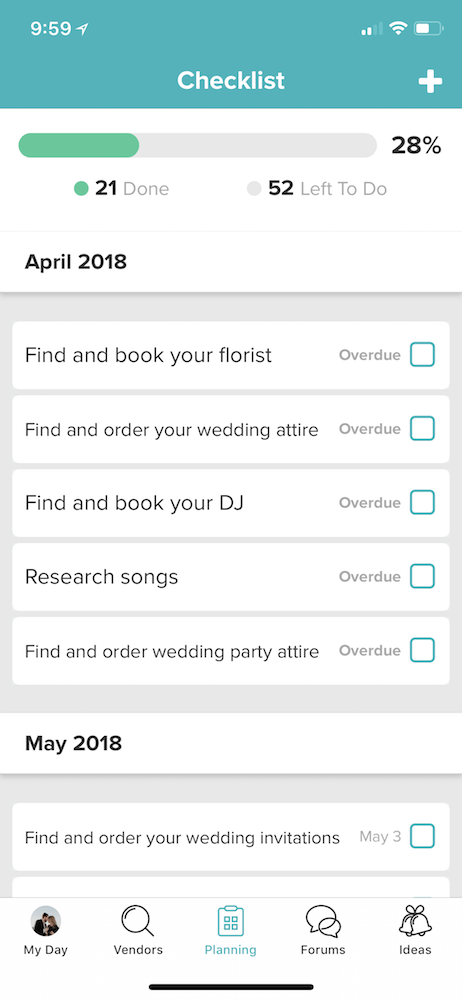 What I like most about this tool is the reminders in the planning guide! As you can see, we're a bit overdue on a few things, but it helps to not only keep you organized, but also accountable. It's also thinks of all those things you might forget about, like event insurance. The app also allows you to search for a florist in your area that fits your budget, which we will be doing this week!
Make time.
With all this talk of organization, I wanted to add this piece about making time. We're all freaking busy. In order to make a decision about a bakery for your wedding cake you may have to drive an hour away to attend a cake tasting. True story – we did that a couple weeks ago. Moral of the story? You have to make time to plan your wedding. This probably means spending less time binge watching [insert addictive television series here], and spending more of your already limited free time planning. This can be tough, especially when you don't have a lot of extra time to give to this process. One thing I've done to help is hire a wedding planner. One, it takes a bunch of things off my plate, and two, she is going to be a lot more efficient at getting things done. If you are in a position where you are finding it taxing to set aside time to plan your wedding, it may be worth budgeting some dollars for a professional planner.
Stay grounded.
The last and most important piece to all of this is remembering to stay grounded. What I mean by that is take away the caterers, florists, dresses, event venues and what do you have? You have the most important person in your life standing next to you. That's what all of this is about. It's about your marriage, not your wedding. It's easy to get wrapped up in the stress and excitement of planning a wedding and losing sight of why you're planning it in the first place. Whenever you find yourself feeling that weight of the planning process, try to find steady ground in what you share with your future spouse.
Are you planning your wedding? What were some of the things that helped you get through the planning process? Comment below!
A big thank you to WeddingWire for sponsoring this post. As always, all opinions expressed in this article are my own.